Evening closure of Precincts, Tues 26 – Sat 30 September
Due to the Luxmuralis light show and the need to manage large queues, public entry to the Precincts after 17:30 will only be possible for Luxmuralis ticket holders or those attending Choral Evensong.
Planning your visit? Remember to check our upcoming closures.


Adrian Bawtree appointed Director of Music and Organist at Rochester Cathedral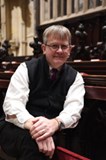 Adrian Bawtree has been appointed as Rochester Cathedral's new Director of Music and Organist. Adrian is currently Second Assistant Organist at Canterbury Cathedral and will take up his prestigious new role from September 2022.
Adrian is well known at Rochester, having worked at the Cathedral as Organist from 2013-2015, and as Interim Director of Music from 2018-2019. On his appointment, Adrian said: "I am delighted to have this opportunity to return to Rochester Cathedral and continue to forge new creative opportunities within – and without – the cathedral walls, alongside preserving and developing the musical traditions of this historic place."
Reflecting on his time at Canterbury Cathedral Adrian says, "It has been an immense privilege to work here in Canterbury. I first visited the Cathedral as a young teenager in the early 1980s while on a Portsmouth Diocesan Pilgrimage. I managed to get into the organ loft to watch the service and see the organist in action – so during the last seven years I have often pinched myself that I am here officially. I would like to wish everyone the very best for the future, and I look forward to keeping connected."
Dr David Newsholme, Director of Music at Canterbury Cathedral, commented: "Adrian's contribution to music-making at Canterbury Cathedral during his time here has been substantial. He has brought great joy to many through his creative and imaginative organ playing; he has been a wonderful and supportive colleague, not least during the past academic year, when he held the position of Acting Assistant Organist; and he has contributed greatly to the wider Cathedral community, largely through his role with the Friends of Canterbury Cathedral. I am grateful for all that he has done here – he will be much-missed.
I am, of course, delighted for Adrian that he has been appointed to the prestigious position of Director of Music and Organist at our sister Cathedral in Rochester. Our friends there have much to look forward to under his leadership, and I look forward to collaborating with him in his new role in future."
Caroline Plaisted, Secretary and Administrator of The Friends of Canterbury Cathedral, has worked closely with Adrian on a number of musical events. She said: "In January 2020, Adrian began leading Friendly Singing for Wellbeing, his own inspirational initiative to hold singing sessions for older people and their carers. During lockdown, Adrian created online sessions which were available to those in care homes and for others to watch at home. Under his leadership, this project has become increasingly popular.
"For the last six years, Adrian has been an enthusiastic and committed Trustee of The Friends of Canterbury Cathedral. Since 2021, he has been Chair of the Friends' Management Committee, helping to steer the Cathedral's fan club through the challenges of Covid."
The Reverend Canon Matthew Rushton, Canon Precentor at Rochester Cathedral, said: "We are thrilled to be welcoming Adrian back to Rochester. The rigorous appointment process involved a number of high-quality candidates, and it was clear to the panel that Adrian had both a wealth of experience encompassing cathedrals, parishes, education and community music making, as well as the necessary vision, compassion and humour to lead the development of music at the cathedral into the future. The Chapter, our musicians, King's Rochester, and the whole cathedral community are looking forward to working with him, as we seek to grow in Christ in our worship and mission, as we have since AD604."
There seems to have been an error while submitting your feedback
Thank you for submitting your feedback
Add your feedback