The Cathedral's Music Department currently promotes two regular concert series: weekly FREE Friday Evening Concerts, and an annual Summer Organ Festival. 
Additionally, our Choir gives regular concerts at the Cathedral, and appears at other leading venues and festivals from time to time. We also regularly host performances from other world-class musicians.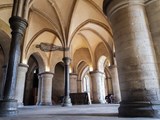 FREE Friday Evening Concerts
Starting again in September 2023
Every Friday from 18:15-19.00 during term time, a free concert is given either in the intimate and atmospheric surroundings of Canterbury Cathedral's Eastern Crypt, or in the magnificent and lofty Quire. 
Concerts are frequently performed by the Cathedral's resident musicians; guest soloists and ensembles, both local to Canterbury and from further afield, are frequently welcomed too. 
For information about forthcoming FREE Friday Evening Concerts, please see the Cathedral's Events Calendar.
The FREE Friday Evening Concert series is organised by the Cathedral's Assistant Director of Music, Jamie Rogers. He is always happy to hear from anyone interested in performing at the Cathedral in future. You can contact Jamie via [email protected]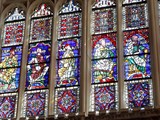 Summer Organ Festival
In Summer 2023, the Cathedral will welcome three first-rate organists from St Paul's Cathedral, Westminster Abbey, and Westminster Cathedral: together with Canterbury Cathedral's own Assistant Director of Music Jamie Rogers, William Fox, Peter Holder, and Peter Stevens will give concerts on the Cathedral's magnificent Father Willis/Harrison & Harrison organ in May and June. 
Additionally, as part of the Festival, there will be a Free Open Evening, at which anyone interested in learning more about the Cathedral's organ, and who would like the opportunity to play it themselves, will be warmly welcome to attend. 
Further details about the Summer Organ Festival can be found here.
There seems to have been an error while submitting your feedback
Thank you for submitting your feedback
Add your feedback