WWI through the eyes of a Vicar of St George's Deal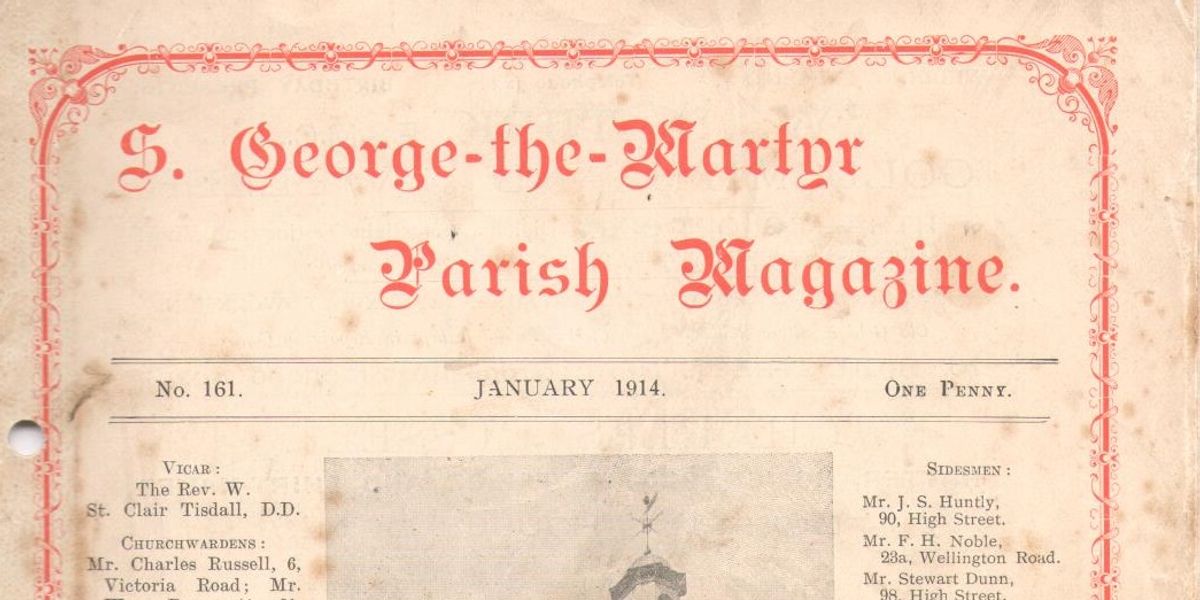 Introduction
The last 100 years have given historians ample opportunity to reflect on the First World War which began in the late summer of 1914. But how was the conflict perceived by people at the time?
Parish magazines, an often under-used historical resource, are the pamphlets containing the news and events of local communities. They can provide fascinating insights into local people and places, forming a valuable counterbalance to national perspectives and trends. The earliest parish magazines in the Archives date from the late nineteenth century, although most surviving examples are from more recent decades. The Archives do, however, contain some sets of issues which were produced around, or during, WW1, one of which is from St George's, Deal. We chose to focus on these because they are newly- accessioned and neatly span the war years. Not only this, but the vicar, William St Clair Tisdall, was a well-educated clergyman and a prolific writer (see below).
The magazines which survive from this parish span the years 1913-1918. Many issues, however, are missing. For instance, we have only three magazines from 1917, and none at all surviving from 1915 or 1916. Neverthless, there are many interesting themes which emerge from their pages. Like many magazines of this era, the local material is also bound in with the national religious publication 'Home Words', aimed principally at a secular domestic audience, and this material is explored separately here.
In this historical 'blog' we shall look at WWI through the eyes of the early twentieth-century cleric and vicar of St George's Deal, William St Clair Tisdall (1859-1928). Tisdall's thoughts about WW1 can be glimpsed in his monthly open letter at the front of the Deal parish Magazines. St Clair Tisdall, originally from Pembroke in Wales, was ordained in 1883 and became vicar of St George's in 1913. A prolific writer, Tisdall was a noted scholar and the author of a string of books and articles revealing his deep knowledge of Middle Eastern culture, several languages of which he was fluent in. Awarded an honorary Doctorate of Divinity from Edinburgh University in 1903, he was the author of many books including The Religion of the Crescent (1895), The Conversion of Armenia (1897) and even Hindustani Grammar (1910). Tisdall could be extremely political, such as openly criticising the government's policy on alcohol or commenting on sensitive world issues like the Jewish situation in the Middle East. As might be expected from a cleric born in the high Victorian age, he was extremely patriotic, proud of the British Empire, and a staunch supporter of the sabbath and Temperance movement. Unlike some other clerics of the late Victorian and Edwardian age, however, he was resolutely Protestant and anti-ritualistic in outlook.
As the original letters are far too long to reproduce in full, we have chosen extracts from each of Tisdall's surviving monthly open letters and the accompanying Parish Notes to give a flavour of the period. Items mentioning WW1 are naturally foregrounded in this blog, but there is also a sense of life continuing despite the war. In order to understand the era, we begin our monthly blog in January 1914, several months before the conflict began.
Brief Commentary
In general terms, the war affected St George's negatively in many ways. However, perhaps like many clergymen of the time, Tisdall saw in the war a ready means to impress on ordinary people the importance of prayer and a godly life. Certainly, there would have many who had become more aware of their faith (see the letter from a soldier, May 1918), although one wonders whether the Christmas cards given to soldiers in 1917 tell us more about the vicar's evengelistic ambitions or the soldiers' needs (see Jan 1918). St George's had a strong interest in mission in this period – Tisdall was formerly Secretary of the Missionary Society in Persia – and one issue notes approvingly that the attached publication 'Light and Life' was 'on thoroughly Protestant and Evangelical lines' (Jan 1914). However, there were already signs that the War was not necessarily leading to greater religious fervour (see Jun 1918). Tisdall hoped that life would return to normal or even be improved afterwards, whereas with the benefit of hindsight, modern historians tend to emphasise profound change in its aftermath. God, King, and Empire were all regarded as aspects of the same culture in this period, something we glimpse in the celebration of Empire Day which included the singing of national and patriotic songs (see Jun 1918).
Tisdall's public complaint about the clergy's exemption from military service in Sep 1917 is pehaps hard to understand today, and Tisdall himself would have been too old to enlist himself. Conscription for single (and subsequently for married) men had been introduced in 1916, although invalids, clergy, teachers and industrial workers were all exempted. The qualifying age was later raised to 51 in 1918, though Tisdall himself would have been beyond even this limit by this time. His writing style is high-brow and paternalistic, with many 'musts', 'oughts' and 'shoulds', and the use of many capital letters gives his sentences extra gravitas. In some of the extracts of solders' letters we see a more everyday perspective, such as the need for food and warm clothing, with some dark humour, such as the soldier writing 'We are all very busy day and night, giving the Hun our Iron Rations, which they do not like…' (see Feb 1918).
Tisdall and the magazine are generally supportive of the war, with much pride at medals won and liberal use of words like 'gallantry' and even 'holy cause'. Sometimes, though, the loss is seen in plain words without the use of euphemisms, such as the notice in May 1918 for 'A concert in aid of the Fund for engraving the names of those from this Parish and Congregation killed during the War'. Some of Tisdall's writing has a deeply tragic overlay for modern audiences with the benefit of hindsight : '… it would be a grand thing if those of us who are young enough could lead the young men of our Parishes against the enemy, and die with them if need be'. (Sep 1917). Here, though, evidence from the surviving war memorial cross outside St George's gives this statement added poignancy: two of Tisdall's own sons had died in the conflict, Arthur at Gallipoli on 6 May 1915 and John in France on 6 Aug 1916. The inscription to the first begins
'Ad Gloriam Dei. To the bright & beautiful memory of Arthur Walderne St Clair Tisdall… Born July 21, 1890, killed fighting gallantly in the attack on Achi Baba, Gallipoli, May 6 1915. Awarded the Victoria Cross by his King & Country in recognition of his most conspicuous bravery & devotion to duty in rescuing many wounded officers & men under violent and accurate fire during the landing of British troops…'
His younger brother is commemorated on another side of the monument, which records that he was a scholar at Cambridge and died two months before his 23rd birthday. The memorial is unusual because it was erected by Tisdall as a private monument to his two sons in 1916, and the list of names of 55 men of the parish was added to the reverse side after 1918. An Order of service was made for the occasion, with several hymns, one of which was Rudyard Kipling's Recessional, which was quoted by Tisdall in his letter for March 1918. The unveiling was conducted and the sermon delivered by the Chaplain General of the Forces, the most senior chaplain in the Empire. A posthumous book entitled Verses, Letters and Remembrances of Sub-Lieutenant Arthur Walderne St Clair Tisdall, V.C. was published in London in 1916 (reprinted in 1992). The family had connections to New Zealand, and an obituary notice even appeared in the Otago Daily Times (see http://paperspast.natlib.govt.nz/cgi-bin/paperspast?a=d&d=ODT19150811.2.79).
The economy is not a topic normally at the forefront of the popular imagination about the WW1 years, but it is clear from this and other sources that shortages of food and money had an impact at home. Money was often short at St George's even before the war, and it often seems to have hovered around a break-even point. Inflation was bearing on the price of the magazine for instance (see Nov 1917 and Oct 1918). There were also shortages of staff and personnel such as teachers. Certain aspects such as air raids and the silencing of church bells are aspects which we might normally associate with WW2, but were clearly known in this period as well (see Nov 1917).
Disclaimer
The aim of this historical 'blog' is to showcase material in the Archives and bring it to the attention of a wider audience. It forms part of a wider educational project to explore and reflect on material at Canterbury from WW1. Please note that all magazine quotes are from historic material, and are intended to illustrate the flavour of the period. Some readers may find Tisdall's language or sentiment in certain passages to be in poor taste, but it is important to remember that this is historic material, and has to be understood in the context of its time. Original quotes are indented or set in single quote marks. All other supporting commentary and material is editorial and offered in the best of faith, but is not intended to represent expert opinion by a specialist in the period. Any corrections will be gratefully received at archives@canterbury-cathedral.org Please contact us if you wish to reproduce this material.
The Letters
We begin our journey of monthly letters in January 1914.

Rev Tisdall writes confidently in his first full year in post:

My Dear Friends – May this New Year be a very happy one to you all…

The parish has a new-look magazine. There is much activity going on: a Men's and Women's Bible Union, Sowers' Band, Gleaners' Union, Torch-bearers group, and a list of collecting-box totals for the Church Missionary Society for its work evangelising in distant lands.

Rev. Tisdall exhorts his readers to attend divine worship more frequently. This would be a frequent plea over the coming months.

A new harmonium with 12 stops has been presented.

The cold weather has encouraged them to obtain new a heating system by next year, for which donations are solicited.

Recent sermons are discussed and events reviewed.

Rev. Tisdall praises the success of confirmation group, but notes

It is a matter of deep regret that no men have sent in their names this year…

There also some edifying Sermons and Lectures coming up.

Other short articles cover recent childrens' activities, the St George's Coal Fund, the Religious Tract Society and improvements to the parish hall.

A sale of work will take place, as St George's funds are at a low ebb, with a debt of over £150 (about £15,000 in today's money).

The vicar calls for more help to teach youths, and make the men's service a success.

In the Parish notes, it is observed presciently:

It gives us much pleasure to notice the soldier-like appearance and good discipline of our Scouts in their new uniforms…

The boundaries of the parish are stated. Plans to celebrate the bi-centenary of St George's (founded 1715) are announced for June 1915. [Unfortunately, the magazines for this period do not survive].

Easter is reviewed and the sermons printed at length. Rev. Tisdall particularly wants to help those with religious difficulties or 'sunk in indifference'.

A lantern lecture has been given about Nazareth. Monthly notices and the annual accounts are listed.

A sale of work is scheduled to take place in the vicarage garden later this month. The church is now nearly £200 in debt, although this is certainly no excuse for ungodly behaviour:

Raffles and other abominations of that kind should be forbidden everywhere…

A new heating system is needed, and youth leaders are still yet to come forward.

In the Notes, the full printing of sermons is to be discontinued to save money.

The Sale of Work has been a great success and has almost brought St George's finances back into the black (see below).

A Missionary exhibition is to be held at Canterbury soon.

A bi-annual prize is announced 'for the best choir-boy conduct, singing and attendance…'

Missionary activity, the Bazaar account and a review of the summer Sale of Work (a craft fair) dominate the pages. The event featured live band music, Mrs Jarley's waxworks, a cake competition, and the singing of the National Anthem. A bouquet was presented to the guest of honour Mayoress Lady Hamilton by the grand-daughter of a former vicar of St George's, in whose name a charity fund has been launched.

This was to be the last magazine issued before the outbreak of WW1 around late July – early August 1914. Rev. Tisdall would next be writing as a peacetime vicar at the very end of 1918. His letter is dated Aug 1 1914, although there is no mention of hostilities, perhaps due to holidays or printing deadlines, or because war was not officially declared until early August.

Life appears to continue as normal in the quiet summer months. The vicar repeats his call for youth leaders. A Literary & Social Society is planned to meet in October. A choir outing to Canterbury is reviewed.

War has broken out. Rev Tisdall writes to condemn the hostilities, seeing it as possibly the end of the world, but also as a seed-bed for evangelism:

The outbreak of this war, which is very possibly the Armageddon struggle… should draw us nearer to God, who is 'our Refuge and Strength, a very present help in trouble'…

We read how the parish Roll of Honour was originally created, not as a memorial, but instead a list of those away on active service and a means 'to remind us of some for whom we should be earnest in prayer'. The Roll, subtitled For King and Country is listed in full, taking up two whole columns of names and addresses.

Already we see the effect of war on future plans: £100 (the equivalent of about £10,000 today) has been pledged to renovate the church heating system, but the churchwardens have decided that, 'under present circumstances, it would be better to postpone the work for a time…'

We also read that the Scouts (whose turnout had been praised back in April) have decided (for reasons unstated) to sever their connection with the church, and the equipment has been returned. However, it is suggested that the boys might yet be needing their uniforms, to enable them to accept the government's invitation to take part in a national defence scheme.

A Red Cross working party has been set up

for helping the sick and wounded in the war, and their needy relatives in this Parish… Day shirts, woollen socks, hospital night shirts, etc are urgently needed. Small subscriptions, gifts of flannel or flanelette, old linen, and old underclothing will be greatefully received by Mrs Tisdall at the Vicarage.

Harvest Festival takes place very soon. The collection will be on behalf of the Victoria Hospital. Rev Tisdall writes

God has given us an abundant harvest this year, and we should indeed thank Him that in this favoured land we have been suffered to gather it in peace…

There is bad news to report:

Four of our parishioners have already fallen in this war, having been lost in the 'Pathfinder' and 'Cressy' while gallantly doing their duty. One other has been slightly wounded, and Lieut. Gordon Adams very severely. Our deepest sympathy goes out to the mourners, and we can all rejoice with the families of those who have learnt that their wounded members are steadily recovering. Would that all those faimilies who have representatives in the Army or Navy, would make a practice, now if never before, of attending Divine Service…

There is a list of hospital items collected by the Red Cross Association.

The Roll of Honour is again printed, this time with a list of those killed in action or wounded.

A short weekday service is to be held every day at noon to pray for the armed forces.

The first page of the enclosure bound in with the Parish Notes features a piece about Barnados, with, set against a Union Jack, the caption 'True Patriotism'.

Rev Tisdall writes:

We are all at one, I feel sure, in our deep sympathy with those in our community and in the whole country who are anxious about husbands, sons, and other relatives at the front…. Hence I hope our daily noontide Services will be better attended now that we are beginning to realise how much the war is costing, and is likely to cost us, ere it ends…

He continues, firmly in preaching mode, but which rapidly turns into soul-searching:

Many have already fallen, some from our own parish and congregation, and the contest has only just begun. Our success or failure depends on the question whether the British Nation is or is not worth preserving… we have many national sins… We have not washed our hands of the Opium Trade yet. The drink trade is not yet a thing of the past. What percentage of the nation really prays? Have we any right now to the noble old title of 'God's Englishmen?'

It is noted that members of the armed forces will be made welcome at St George's. Finances continue to be a burden, however. The vicar wishes that people would substitute silver coins for copper ones in the collection plate.

Harvest Festival is reviewed, at which 'a large consignment of clothing and comforts for the troops at the front ' has been sent.

A letter 'Abstinence at Home' is reprinted from the Times about the evils of alcohol, especially in wartime. The writer urges people to follow the example of Russia, which has prohibited the sale of alcohol, 'at least during the continuation of the war, and until our brave fellows at the front are safely home…'

In other notes, there is much news about local events. The verger's silver wedding has taken place, at which various people made speeches, including Mr Darracott the churchwarden in upbeat mood who

…endorsed what had been said by the Vicar and his co-warden. In the past two months they had heard much about duty, the embodiment of the finest instincts of the heart. They were proud of their young men who had recently responded to the call of duty on behalf of King and country… God bless them and bring them back safely with honour and distinction!

The Roll of Honour is printed. The cycle of life continues. Baptisms, marriages and burials are listed.

The vicar wishes his congregation a happy Christmas and welcomes relatives of those listed on the Roll of Honour to services to pray for their relatives risking their lives, exposed to hardship and temptation.It is pointed out bluntly that when supposedly Christian nations are at war with one another, 'heathens are apt to ask what is the good of Christianity?' The war from Tisdall's point of view is not simply undesirable, but also a real threat to the Church.A letter is printed from a soldier in the [British] Expeditionary Force to his wife, written 16 Nov 1914. It is winter and the soldiers are freezing cold, having endured 'blinding sleet-storms' for two days, with no prospect of it clearing. Despite this, he endorses the war. He writes:

Dear Jess, we are losing some brave sons in this terrible war. Officers and men who are fighting for our dear country are bravely laying down their lives for what they know to be a better future for the ones they leave behind. For this reason all the young men of Britain are required to become soldiers, and there should be no shirking. Well, dear, I should like you to send me a good warm muffler…

A sermon from their chaplain on the text 'Be ye prepared, for ye know not when the time is' had made him 'pause to think 'Where is my soul?' and 'If I get killed, where is my journey?'' It is noted overleaf that the items requested had been sent out to him.

The decease of a long-standing choir member has drawn attention to the lack of choirmen.

A deeply patriotic and somewhat Victorian-sounding religious poem is printed, exhorting those at home to pray, which begins 'Behind the roaring cannon, behind the flashing steel, the defenders of the Inner line steady and constant kneel…'

The Roll of Honour list is again printed.

This is the last magazine for 1914. Unfortunately, no magazines survive from Jan 1915 to Aug 1917 inclusive. Presumably they were still printed, but there were perhaps no spare copies to save (see Dec 1917).

During this time, a double tragedy would strike St Clair Tisdall's family. First, one of their sons, Arthur, died at Gallipoli on 6 May 1915 aged 24. Arthur was awarded a posthumous Victoria Cross for heroism, the result of much lobbying from the family. His bravery was apparently mentioned in a letter to Winston Churchill, then First Lord of the Admiralty. The award of the V.C. was confirmed in the London Gazette for 31 Mar 1916. Arthur was one of only 627 recipients of the V.C. in WW1. Then, in the following year, his younger brother John was reported missing at the Somme. He was 23. John, three years younger than Arthur, was a classics scholar at Cambridge and had a promising career in the Civil Service before the outbreak of the war. Arthur was buried where he fell, and the site of his grave, like that of his brother, was lost to posterity.

We can hardly begin to speculate about the information contained in these lost copies, or the impact of the loss on the family. The next we hear from St George's and St Clair Tisdall is in late 1917.

Rev Tisdall writes of an experience he had while on holiday which reminds him that the war is closer than one might think:

My Dear Friends – I am glad to be back among you, though I much enjoyed my brief holiday in the Surrey hills, – the more so because I was not altogether out of the sound of the guns in Flanders, though I was sorry not to be nearer the danger zone, as you have been…

In a somewht surprising statement, Tisdall wishes he and his fellow-clergy could join up:

You may be interested to learn that the feeling among the Clergy about our exclusion from active military service in the War is so widespread that there is a great probability that a petition will be presented by us to the Archbishops… in this present just war… it would be a grand thing if those of us who are young enough could lead the young men of our Parishes against the enemy, and die with them if need be. It is not enough to give our sons, as so many have gladly done… The cause we are fighting for is God's, and we are justified in claiming our right, as citizens and Christian men, to support it and share the dangers and sufferings of our fellow-countrymen in the battlefield.

It is not clear precisely what was motivating this movement – perhaps it was partly fuelled by guilt that clergy were only able to watch helpless from the sidelines when members of their own families were away fighting. It may also mark a change of sentiment from earlier triumphal sentiments about God, King and Country (see Nov 1914).

In the Parish Notes, the son of a local person has been wounded:

We are very sorry to learn from Mr Geo[rge] Stewart Dunn on the 18th [last month] he received a telegram from the Canadian Record Office informing him that his eldest son, Capt. F. A. Stewart Dunn, 10th Canadian Battalion, had been wounded on the 15th Aug. The latest report sent by the doctor who is attending him is that his wound was very serious… We sympathise very deeply… and trust that they will have much better news soon.

The earlier 'Roll of Honour' listing in 1914 of those on active service has now become an obituary for the fallen, captioned 'Pro Patria' (For the Fatherland).

Pro Patria – We desire to express our deepest sympathy with Mr. and Mrs. Rose, 37, Beach Street, in their grief for the loss of their gallant son, 2nd Lieut. Reginald Afred Rose, 2/7th Manchester Regt., who was killed in action in Flanders on the 2nd…

Another soldier is confirmed as deceased, having being reported as missing on 26 Sep 1917.

A special service was held 'to mark the entry of Great Britain on the fourth year of the war', at which the vicar 'emphasised the necessity of the renunciation of our national and private sins, if victory for Great Britain is to come to pass…'

There is a review of a concert for the V.C. Memorial fund, to pay for the engraving of names 'for the men from our parish who have fallen in the war'.

Other news shows life continuing as normal – notice of the coming Harvest Festival, Jumble Sale, Mothers' meeting, and the death of 'one of our oldest links with the past', Miss Cullen, a former headmistress in 1871-85.

[The October 1917 issue is lost].

Air raids are affecting the town of Deal:

It may, perhaps, be natural for those who have no knowledge of God to keep on worrying themselves and others about "air-raids", thereby helping our enemies in carrying out their plan of striking terror into the people of England…

The celebration of Trafalgar Day on 21 October was interrupted by one at evening service:

When the alarm of a raid was given, and an opportunity for those that wished to do so to leave the church, only those two or three adults who had nursing or other duties to call them away left, if I except certain boys… But the vast mass of the population of the town seemed to think it was safer, if not more profitable, to wander about the Front or the streets than to worship God… I must mention the fact that scandal has been caused by certain professing Christians, who, unable to trust God to take care of them, have fled from the town to avoid danger…

In the Parish notes, there will be a special collection to boost church funds – though donations to the Victoria Hospital have been better than expected.

We also read that

In accordance with regulations, the Church bell will not be rung after nightfall during the winter.

A musical concert is planned to sponsor names on the V.C. memorial.

Pro Patria – The son of a recently widowed parishioner has been killed in action in Flanders. We also read of a Captain Miskin who is recovering after being wounded in Egypt some months ago, and another soldier, badly wounded on the Western Front, is now convalescing.

The economy is causing problems:

Our readers must all be aware that the cost each month of producing our Magazine is considerably more than it was before the War. The extre price of paper and cost of printing is known to us all, and many of our advertising subscribers have had to withdraw their help…

Despite this, some timely donations mean that the price for the magazine can be held at 1 old penny (1d) per month for 1918. [However, it had increased to 2d by October that year]

Harvest festival is reviewed. The many helpers are listed.

£2 of the £3 13s 6d profits from the recent jumble sale is being donated to the memorial engraving project.

The vicar is in evangelistic mood:

I am inviting soldiers (and other men who may wish to do so) to join a Class for the study of the Word of God… There are plenty of problems in connexion with religion which require careful thought and study at the present time…

As a coastal town, Deal would have been close to the front line, with many soldiers passing through to France or returning home.

There is a royal command for special services to be held on the first Sunday of New Year 1918.

In the parish notes, the war is frequently mentioned:

Will friends, when they have read the Magazine, if they do not desire to keep it for future reference, either give it (or lend it) to the soldiers "billeted" among us, or hand it over to the vicar for that purpose? It might interest them…

A soldier is congratulated for gaining the military medal on the Western Front. However, there is a loss to report.

Pro Patria – We deeply sympathise with Mrs Hayward… on the death of her son, Pte. J T Hayward, Royal Sussex Regt., who was killed in action on Sept 25th. He was one of the first from Deal who enlisted at the outbreak of war, and took part in the Battle of Loos on April 16th last year, and in the storming of Vimy Ridge on 12th April last, being wounded on each occasion.

Other notes concern the Sowers' Band, church council meeting, reviews of music and organ recitals, and a review of the Mayor's Sunday with 'a full church, a choir and congregation flanked by men in khaki'.

Rev Tisdall writes:

My dear friends – we are all aware how critical our national position now is, owing to the defection of Russia from the cause of the Allies. This enables the Germans to bring forward a great mass of troops from the Russian frontier to attack our Forces in France and Flanders… Besides this, we know that our food supplies are falling off, in large measure owing to the activity of the German submarines, but also in a considerable degree to our waste of enormous masses of barley and sugar in brewing…. The fault is our own, for the Government is not strong enough to resist the drink party… If we suffer famine by and by, if the War is still further prolonged, if thousands and hundreds of thousands more of our sons and husbands have to die on the battlefield, or to come home wrecked for life, it will be our own fault…
We need to reform our national life, and turn away by God's help, from our national sins (drink, gambling, impurity, unbelief) before we can honestly ask or expect God to give us the victory over our foes…

In the Parish Notes, the war is never far from the surface:

We begin the year 1918 today with a short Service of Prayer for our Country, our Soldiers and Sailors, at 11:30 a.m. …

News has also reached St George's of events from the wider world:

The surrender of Jerusalem to the British Army under General Allenby on the 9th Dec., and his entry on the 11th… are of historical interest and will be recognised as perhaps the most important events of the year…

Clearly, the War had raised inconvenience in certain quarters:

There seems to be an opinion… that [there is a] lack of seating accommodation in our Church, owing to the presence of so many soldiers. This is not the case…

Seats are stated always to be available for everyone present [note: bold text as in the original]. However, there may well have been some truth in this statement as the church was later said often to have been full to bursting-point (see Dec 1918.)

In other news, the son of a local resident has been awarded the Military Medal 'for gallant conduct in France', for which him and his parents are congratulated

…very heartily. St George's parish has done well in the war by land and sea, and no inconsiderable number of medals has already been won by men on our Parish Roll of Honour in our Church Porch…

It is noted that the Roll of Honour has been decorated with flowers. There are also two letters from soldiers, one of which thanks the vicar for the advice contained in 'The best weapon', probably a talk or pamphlet making connections between metaphorically 'fighting the good fight' and active military service.

Finally, Christmas 1917 at St George's is reviewed:

The services on Christmas Day were particularly bright, and the soldiers joined heartily with the rest of the congregation in the hymns and the singing genreally at the Morning Service. The soldiers were much pleased with the Christmas cards which were distributed among them before that service. The Vicar spoke helpfully and earnestly on the motto inscribed on the cards: Remember Jesus Christ.

There has been a good attendance on the Day of National Prayer. The visiting preacher from one of the Free Churches has given Tisdall food for thought:

Though we are in this war fighting a holy cause, in the cause of righteousness and justice, yet we should earnestly consider whether the Nation is worthy of being used by God to secure the victory of this Cause. Right must finally prevail, he said; yet History often teaches that God has often permitted the nation which in war was upholding the right to be overcome by its adversaries, because its sins prevented God from blessing its undertakings…

He continues:

An accusation has been brought in public against England of corrupting the Canadian and American troops which pass through this country to fight for us by affording widespread inducements to drunkenness and immorality… If the evils complained of exist, how can the righteous God bless our arms and preserve us from ruin?… How long can we expect America to fight for the existence of our Empire, if she (rightly or wrongly) believes England to be a moral plague-spot? Nay more, it ultimately leads to national overthrow, slavery and extinction. May God shew us what the moral evils are which have hitherto prevented us, in spite of our righteous cause, from receiving and His hands the victory, and may He in His great mercy give us grace and strength to remove them, ere it be too late!

In the Notes this month there is news of a military award:

Last month we mentioned that Pte. R. G. Drew of the Australian contingent, had been awarded the Military Medal. We now learn that he gained the coveted distinction by his gallant rescue of a wounded officer who had lain four days on the battlefield without the possibility of assistance.

Intercession Sunday on Jan 6th is reviewed, mentioning

…the proclamation of our earthly king to all subjects in all churches in his Dominions, to wait upon the Ruler of the Universe in Prayer and Thanksgiving for His special guidance in this stage of the war. A solemnity which might be felt pervaded each part of each service…

There is also a copy of a soldier's Letter from the Front, written on 17 Jan 1918:

… As you might know, I was out here at the beginning, and I have been in the firing line ever since. I have been very lucky, only getting wounded once. I was in the Retreat from Mons, so you see I have seen an awful lot. We all long for this awful war to end, so that we can get back to the dear old folks… We are all very busy day and night, giving the Hun our Iron Rations, which they do not like… PS The weather is awfully cold here'. Gunner Annall, 121st Heavy Battery, B.E.F. France.

My Dear Friends, At the present time our thoughts must and should be in large measure concentrated on the War… All eyes are directed towards the Western Front, where our Allies and ourselves are daily expecting the most desperate and far-reaching attack which the world has ever witnessed '. At stake is no less than 'the liberty of the world, the existence of our nation, and even the triumph or the overthrow of right, justice, morality, civilisation, and, in large measure, true and vital Christianity.

What, he asks, can those at home do to help their menfolk? First, they can write to them, and cease grumbling about 'our petty worries'. Second, they can moderate what they eat and prevent 'the insensate and unpatriotic waste of food-materials in brewing'. Third, they need to pray to God for help, if they are worthy to do so:

Let us ask Him to make us so by enabling us as a nation to break the chains of our nations sins – drunkenness, impurity, and gambling… Then we may feel sure of Victory and Peace. Our real dangers come not from our enemies, but from ourselves – our disloyalty to God and our trust in the arm of flesh.

Tisdall signs off with a quote from Rudyard Kipling's poem Recessional (1897) containing the line immortalised after the War: 'Lest we forget'. This text also featured in the Order of Service for the unveiling of the memorial cross to his son in 1916 and so may have been a favourite of Tisdall's – although notably one of the verses alluding to Imperial decline was omitted on this occasion.

In the Notes for March, we see life continuing much as normal – a confirmation class, lectures and sermons are listed. Church funds are running low, however, and more donations are urged to prevent a financial deficit.

For Easter, which falls on March 31st, gifts of moss, ivy and spring flowers are invited to decorate the church. A Mrs Rose has sponsored flowers to decorate the Roll of Honour throughout February.

There is also a piece on 'Drink', urging temperance and pointing out the waste of alcohol, claiming that if every household reduced its alcohol consumption by half and invested the balance in the War Loan, it would return £90 million per year. The article draws from the official leaflet 'How to Save, and Why', published by the National War Savings Committee.

Revd. Tisdall writes:

Amid all the sorrows and troubles of life, and not least so critical a time as this in the history of our country and of the whole world, the Easter note of joy and the assurance of victory over sin… comes to us with increased consolation, and the promise of better things in store…

The remainder of his letter is devoted to church matters: the confirmation group, and a call for unity, closely followed by an invitation to the annual vestry meeting.

My Dear Friends, Our thoughts are all concentrated on the great battle which began in France on the 21st March and is still raging… it is certain that, amid all the struggles in the whole history of our Nation, we have never been in such a position of danger as we are at present. Our soldiers are enduring hardships, and facing perils of which it is impossible for us to form an adequate conception.

A telegram had been sent from 'an enormous meeting in Melbourne' to P.M. Lloyd George asking him to proclaim a 'universal day of Intercession for the Empire at the present crisis'.

The churchwardens have decided to re-stand for office, and the parish financial crisis has been staved off.

There then follows a lengthy piece on 'The Family Pew' in which the Vicar and churchwardens lament the indifference of young people to the observance of the Sabbath. They feel this is because 'the Church… has not moved with the times'. The world of science, discovery, invention, literature and education is distracting them to idle pleasures. The sacraments and holy days of the church, together with bible classes and 'healthy physical recreation' (echoing the close association between religion and fitness often made in this period) deserve not to be forgotten in order to shape their lives as model citizens. However, they write that the Church itself is not to blame, so much as the neglect of the family pew, and so, looking to the future,

Scarcely a home throughout the land today, but has to mourn the loss of some loved one within the family circle. The war, with all its attendant horrors and privations, is bringing home to each one of us the solemn responsibilities of life… A brighter day is breaking, and when the war is over, and our brave warriors come back again, to settle down to home life, we want to see a new earth, in which the higher and purer instincts of man's divine nature will prevail, and where the House of God will once again become the spitirual home of Family Worship, and the 'Family Pew' a sacred spot…

There is a message from Douglas Haig, taken from the Times, Haig's 'Order of the Day' made on 11 April 1918, known to historians as his 'backs to the wall' communiqué, a defiant and uncompromising statement:

…There is no other course open to us, but to fight it out. Every position must be held to the last man; there must be no retirement… each one of us must fight on to the end.

The magazine adds

Though meant to inspire our gallant troops, who are fighting desperately for every foot of ground against heavy odds, they must be taken to heart by every man and woman in these islands… no sacrifice can be too great, no effort too small, in the supreme task of giving all possible help to the brave men who are battling day and night…

In other news this month, and in a less serious vein, the announcement of a baby show and food economy competition, together with music and tea, to be held in August. [see Jun 1918.]

An announcement for a memorial fundraising concert:

A concert in aid of the Fund for engraving the names of those from this Parish and Congregation killed during the War, on the V.C. Memorial Cross will be given… [spaces for details to be filled in here]. A capital programme has been arranged, and it is hoped that all friends will avail themselves of this musical treat, and thereby to perpetuate the memory of those from our midst who have sacrificed their lives for England.

There is also an extract from a soldier's letter to a local comrade, inviting the recipient to pray earnestly in the hope of future peace.

Rev. Tisdall announces he is taking a two-week holiday. His brother-in-law, a clergyman from Gloucestershire, will be covering for him. In the meantime, the war is continuing:

Now that everything points to the continuation of the enemy's terrific efforts to destroy our armies and those of our Allies, our prayers to God for His help and for victory should be growing more earnest and fervent than ever. But is this the case? I fear that the attendance at Prayer Meetings in Deal is lessening rather than increasing… In the whole history of our Nation, the need for fervent, believing, prayer has never been so great as it is at the present critical time – not even at that of the Spanish Armada… I trust that all who can will come and assist us in our intercession for our Nation and for our men at the Front…

The meetings are held on alternate Thursdays at 3pm – one wonders whether another time might have attracted a higher attendance?

In the Parish Notes this month:

The Vicar appeals for more people to join the choir. More support here is important,

…especially at a time when the fact of St George's being the Church appointed for the troops to attend Parade Services in, gives us all a special chance of worshipping with, and helping in, religious matters men who have given up so much for their country, and may yet be called to lay down their lives for us all…

Alfred Hedgecock, son of a local resident in the Australian infantry, wounded in France in April 1917, is steadily recovering, and is now able to get about.

St George's Sale of Work on Aug 8th will run in conjunction with the Baby show and Food Economy competition and is to be opened by the Countess Beauchamp. The band of the 15th Scottish Rifles will provide the music.

Whitsun is reviewed, 'a Festival especially glorious this year in sunshine and flowers'. Canon Bickersteth of Canterbury Cathedral made an address 'that would appeal forcibly to our soldier friends' based on a quote from Genesis 'I am thy shield and thy exceeding great reward'.

Finally, there is a review of Empire Day, the occasion for the singing of 'National and Patriotic Songs', which, due to inclement weather, took place inside. 'Land of Hope and Glory', composed only about 15 years previously, became very well-known in this period.

Dr Tisdall read a letter from the King and Queen, expressing their appreciation of school work done by teachers and children… After singing 'Land of Hope and Glory', the school children very nicely rendered Sir Arthur Woolaston's song, 'Hearths and Homes of England'.

Sir Arthur then gave an entertaining talk about 'the numbers of children in the British Empire, and the time it would take to shake hands with each one'. He then led on to

…the object of keeping up Empire Day – first and foremost, to 'Fear God' and next to 'honour the King… To the accompaniment of the band, the children gave a song, with Flag Drill, and after the singing of 'Rule Britannia', 'England, dear England', 'Home, Sweet Home', all present joined in the anthem, 'God Save the King'.

There is a short letter this month. Tisdall writes:

Though our enemies have tried their utmost, and have captured some ground on the Western Front, yet they have failed in their great object, which was to destroy our armies… but the struggle is by no means over…

A garden concert is announced in aid of the St George's Roll of Honour.

There are two notifications of wounded soldiers – one was 'gassed in France', and now recovering. The second had been wounded by shrapnel in the shoulder.

There is also a piece on 'Wartime sobriety'.

The attached magazine for this month has a story about two unexploded bombs which fell in soft ground in a garden behind a certain church on the morning of a charity bazaar. One of the bombs was excavated and passers-by charged 3d a time to view it, the profits raising a handy 25s 6d for missionary work.



The vicar has been ill and unable to visit people. Coming soon will be the Sunday marking the start of hostilities in 1914

…four weary years ago, a day which changed the world for all of us, and began a new era in History… The beginning of the fifth year of this terrible struggle should fill us with solemn thought…

A service was held on 4 July to thank the United States of America for its co-operation as an ally.

There is a piece entitled Our Wounded and Missing:

We desire to express our deep sympathy with Mr and Mrs Dean Corke in their anxiety regarding their eldest son, Sapper B. Corke, R.E. They received official information that he was missing since the German offensive on the 27th May, but have heard noting since. We trust that they will soon have good news.

Two local soldiers are recovering from gas attacks.

Various activities are listed. St George's Sale of Work for 1918 is outlined in detail, including a baby show which 'will considerably enhance the fame of our town and neighbourhood as a health-giving spot'. (This was perhaps to counter the drift away of those abandoning the town noted earlier: see Nov 1917). There will be prizes for various ages and categories of children including the 'finest pair of twins under 5 on 1st July 1918'.

[The September issue is lost.]

Harvest this year is said to be 'the best harvest we have had in this country for a generation'. Tisdall notes that the various War Hospitals would also welcome offerings of vegetables for the patients. But he is outraged that the Angling Association will 'desecrate' four Sundays a year by holding competitions on the sabbath.

The end of the war is in sight:

At the conclusion of the War, it is proposed to add to the names already inscribed on the Memorial Cross those of all other men from our Parish or Congregation who have fallen.

The existing details are then listed.

The vicar states that he can act as surrogate for the issue of soldiers' marriage licenses. One of the parties has to have resided in the parish for at least 15 days beforehand.

Pro Patria – The obituary of Mr Hedgecock's son is given. He died of wounds in France, aged 31. It is noted that he was already a veteran of military campaigns to Australia and Egypt, had been temporarily buried in a trench, suffered shell-shock and had been wounded three times previously.

Rising costs mean that the magazine will stay at 2d per copy in 1919.

Two of Rev & Mrs Tisdall's sons had already lost their lives in the conflict, Arthur in 1915 and John in 1916. We now hear of a third son who has been seriously wounded:

My dear friends – I take this opportunity, in Mrs Tisdall's name and my own, in thanking you one and all for the great kindness and many expressions of sympathy which our son's (Capt. Edward Gordon St Clair Tisdall's) dangerous wound has evoked… He was wounded in the chest on September 29th in the victorious crossing of the St Quentin canal. When sent to Military Hospital at Rouen some days later, X-ray examination showed that a piece of the shell had lodged in his liver. The War Office summoned his mother and myself to see him. For some days after our arrival it was very doubtful whether his life would be spared. Now, however, thank God, there seems every prospect of him recovering…

Pro Patria – There are three names this month, all sons of local people. Two of the families lived a few doors away from each other on the same street. Another local soldier has been wounded in the leg and foot and is now in hospital in France.

Harvest Festival is reviewed. Thanks for the bountiful harvest were linked in the sermon by the visiting preacher to

the wounderful successes achieved on various fronts in the war, referring to the German retirement, of which news had that day been received. He pointed out that these successes had followed the intercession services held throughout the land on the anniversary of the war…

The vicar, not one to be shy of nailing his Protestant colours to the mast, strongly endorses a petition against changing the communion service into something resembling 'the Romish mass' and encourages everyone to sign it, 'in order to prevent an attempt to undo the work of the Reformation'. This may relate to discussions which eventually culminated in the 1928 Prayer Book, which restored certain texts and practices removed in the sixteenth century.

Four advertising spaces inside the back cover are now vacant.

The Armistice has been announced on 11th November 1918. The War is finally over. In this, the final time we hear from St Clair Tisdall, he waxes lyrical:

My Dear Friends – We are all thankful to God, "the only Giver of Victory", for the prospect of a just and lasting Peace… Men speak of "A New World" after the war. Certainly much has changed in this and in every other land. Let us, if we desire the new era to be better than that now ended, "put God first" in all things…

A General Election is due to be held. Tisdall notes that

The task of Reconstruction which will fall upon the new Parliament is one which, for good or evil, will affect the country, and even the world at large, for generations. Old abuses must be swept away, and [in their place] Temperance, Housing Reform, Education, and many other things…

They are now saying farewell to the Scottish regiments which have been in the parish which are returning home. The parish hall (requisitioned by the military for the past 2-3 years –see Parish Notes, p.2) has now been handed back. It will need some repair before it is fit to use.

Finally, he extends thanks those who have shown sympathy to his family in their 'deep anxiety regarding our wounded son and in our thankfulness for his recovery'. Edward survived to live well into the 1940s.

Parish Notes

Pro Patria – We must again express our deep sympathy with the relatives and friends of gallant men who, by laying down their lives for their country, have helped to secure the glorious victory now gained by ourselves and our Allies over cruel and unscrupulous enemies…

Three men are listed. Two have died of pneumonia, and another from influenza. Another man has died of wounds sustained in late October, although another is now recovering.

There is a review of a spontaneous Thanksgiving service at 3pm on 11 Nov, the first Armistice Day.

Life is starting to return to normal – social groups are re-starting, and Christmas decorations for the church are invited.

There is a lenghy paragraph entitled Peace, and Peace Offering:

The first impulse within many hearts when the news of the signed Armistice was made known was one of sincere gratitude to God that the terrible struggle which had desolated the world and laid low tens of thousands of our bravest sons had at last come to an end. For four years and three months the dark cloud of war has visited the nation with all its terror and desolation. Nearly every home has been robbed of son, brother, husband, father or friend. Many have made the greatest sacrifice and passed gloriously into immortality. Others have been maimed and terribly wounded…
At home, beset with the threatened terror of bombardment, aircraft, and invasion, we have passed the last four years day by day in a state of tension and expectancy. In Deal and Walmer we have been marvellously preserved…
Almost up to the last it seemed as if another winter would come and go before the final struggle. And then, on November 11th came the answer to thousands of prayers… Right had conquered, and the great victory was acclaimed throughout the uttermost parts of the world.

It is noted that the church building has suffered, being now

…in need of repair and redecoration. During the war the church has been thrown open for the use of the military, and on many occasions a thousand men have been present at out 11 o'clock morning service… The wear and consequent damage has been considerable…

Donations are invited to make good the wear and tear.

Finally, an extract from the Times is printed, where we read about a 14-year old schoolboy who looked older than his age. Keen to enlist, he was turned down five times before being successful on the sixth attempt when he gave his age as 19. Suffering from trench fever, and wounded in the battle of Loos, following a stay in hospital he then joined a navy minesweeper ship, where he was still serving.
Home Worlds magazine enclosure
St George's magazine was bound in with attached national publications: 'Light and Life', and subsequently 'Home Words'. The material, although not local to Kent, contains many interesting sidelights on the period. One article from January 1913 called 'Half a mile above the Earth' concerns vintage aircraft and flying. Almost prophetically, it mentions the possibile of use of aircraft in a future war.
Illustrated stories comprise the bulk of the material in Home Words, such as 'The first to answer the call' (Sep 1917), and in another story about wartime recruitment (Jan 1918), a moustached and uniformed man touches another man in civilian clothes on the shoulder, captioned 'You're the sort, my lad'. Other pieces covered more unusual topics such as War Dogs (Oct 1918) and Coast Watchers (Dec 1918). Social justice was a key topic of interest in this period, with pieces such as 'The Great War gift of the Women of the Empire' about the founding of a hospital by women for the benefit of injured veterans (Sep 1917). The unlikely-sounding Romance of a Bed-Jacket (Sep 1917) was a fictional wartime short story about romance blooming amidst convalescence, with illustrations of Red Cross nurses. A piece certainly aimed at a female audience was called 'Women of Britain – Answer the Call!' (Dec 1917). This is an advertisement for the Womens' Auxiliary Air Corps, containing a drawing of a cheery young woman raising her hand, captioned (perhaps slightly patronisingly to modern eyes) 'More and more men are wanted for the fighting line – more and more women are required to take their place at work that women can perform'. Home Words in the WW1 years also contained practical domestic hints, such as 'Sunday Dress economies in time of War', about making a dress for a young teenage girl (Dec 1917).
The fighting raised many intractable theological questions, addressed in 'What Three years of War have taught me', where two clerics outline their hopes for social justice (Jan 1918), and 'A War question I am often asked', where a clergyman reflects on God and contemporary suffering.
The war also provided the opportunity for some targeted commercial activity, as evidenced by the advertisements: 'For Consolation: A little book of Modern poems for comfort for all who are bereaved by the War…' and 'Short Prayers for use at the Front' (Sep 1917). The connection between religion and contemporary experience was also made in 'War Vesper', a wartime hymn with music score (Jan 1918).
Many illustrations in particular are, to modern eyes, highly sentimental. One is called 'Easter homeland', which shows an idealised scene of a pretty timber-framed country cottage with thatched roof and plants climbing on the walls, with a mother at the gate clutching young children in her arms as she welcomes back her husband, an exhausted soldier, with a ghostly figure of Christ standing behind (Feb 1918). Another is captioned 'Sons of her son', a wartime family carol scene, where two youths, dressed in army and navy uniform respectively, stand either side of an old woman who gazes blankly into the distance (Dec 1917). Her grandsons may be with her but she is mentally in another place, as indeed her absent son is. The image suggests that, while the war may have focused on youth and men, it was the elderly and women who were left to pick up the pieces.
Postscript
St Clair Tisdall remained as vicar of St George's until his retirement in 1925. Three years later, and only a decade after the war had ended, he passed away. He would not live to see his 70th year.
Of their total of nine children, eight of which survived infancy, St Clair Tisdall and his wife had lost their two eldest sons, Arthur and John, in the conflict. Their next son, Edward, who, although badly wounded in 1918, survived to live for more than another quarter of a century, eventually passing away in 1946 at the early age of 50. Two older sisters, Edith Rosabelle and Irene Mary, survived into 1952 and 1965 respectively; Irene married in 1928, but Edith was to remain a spinster. The life of a middle sister, Ruth, has proved impossible to be trace in UK records – many of the Tisdall children were born abroad, and she may have emigrated.
Their youngest son Francis and his older sister Violet, however, both survived into the late 1980s. Francis, who would have been around 13 years old when WW1 broke out in 1914, was 87 when he died in 1988. Violet, born in 1899, was the last survivor of the family and the longest-lived; she died at Dover at the age of 90 in 1989. These, the two youngest of the Tisdalls, had presented their older brother's Victoria Cross and other medals to the HQ of the Royal Naval Reserve in a ceremony held on HMS President on 28 April 1970. From 1982-2004 the medal was on public display in the Royal Naval Museum in Portsmouth. In 2004, however, the exceptionally valuable V.C. medal was withdrawn from display, and it is believed it was sold to an anonymous collector later that year for an undisclosed sum.
The parish of St George still exists, as does Tisdall's war memorial (for images, see http://www.waymarking.com/waymarks/WME3DK_St_Georges_War_Memorial_Deal_Kent_UK ).
The original magazines for the period can be viewed at Canterbury Cathedral Archives during normal opening hours, references U3-67/28/A/2 (for 1914), U3-67/28/A/3 (for 1917) and U3-67/28/A/4 (for 1918). Please see website for opening days and times. Some extracts from Home Words appear in the Archives WW1 box which can be loaned to schools
(for more details, please contact: archives@canterbury-cathedral.org).
Our thanks to local historian Peter Ewart for genealogical research, making suggestions, and supplying images of the dedication service and memorial book.
Written by Toby J. Huitson
Published 17th April 2014