Item 9: The Coverdale Bible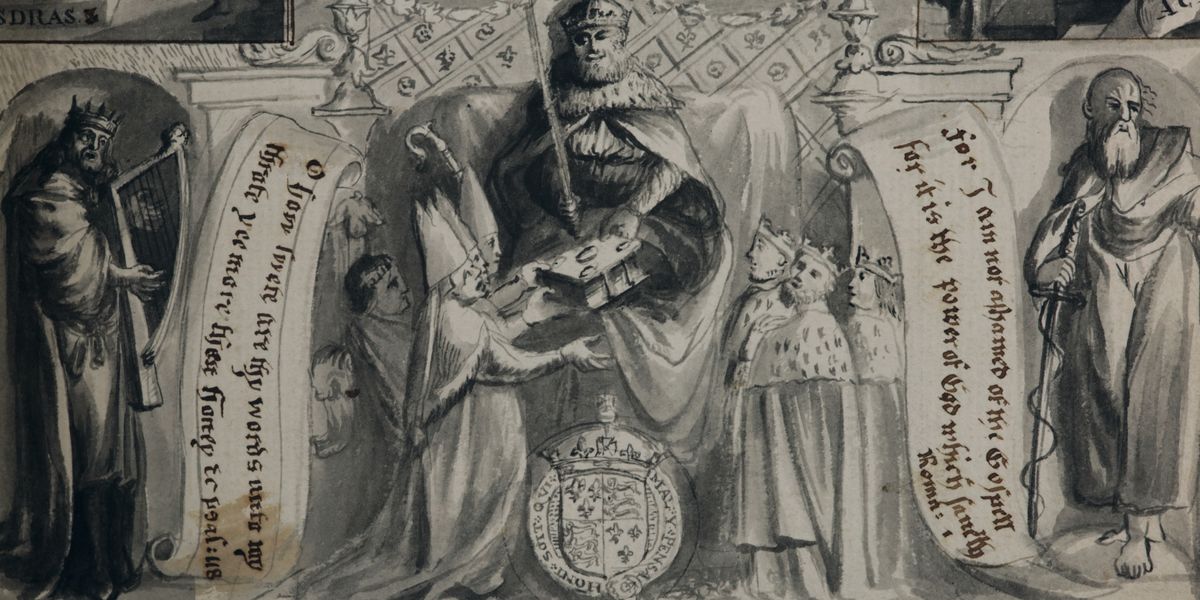 Author: Fawn Todd, Cathedral Librarian
Although perhaps not as glamourous as some of the other volumes in this series, the Coverdale Bible still marks an important point in the history of the book, particularly in England. Translated and printed in Europe in 1535 (with English translations of the Bible still not strictly legal within England at the time), the Coverdale Bible is the first time the entire Bible had been translated into English entirely by the work of one man: Miles Coverdale.
From the extent of repairs evident, our copy (CCL H/N-8-6) has seen much rough handling in its past, but also some remarkable acts of care. Although the copy is sadly missing its original printed title page, a past owner has valiantly attempted to recreate it by hand. The carefully designed printed title page includes a depiction of King Henry VIII, seated above his coat of arms, regally handing a copy of a book (presumably the Bible in English) to his kneeling clergy and lords. This imagery is fascinating, especially considering it is so similar to the figure of Henry in the title page of the Great Bible, which was published in 1539, just four years after this copy.
Coverdale's Bible was the first edition to include chapter summaries, and the first to include the Apocrypha as an appendix to the Old Testament. To aid the reader in their understanding of the text, he includes some alternative readings in some places in the margins alongside the main text, as well as cross-references. The work uses 67 small woodcuts to supply the 150 illustrations. Coverdale's 1535 translation also introduced many famous biblical phrases, including 'By the waters of Babylon we sat down and wept when we remembered Sion' (Psalm 137:1), and 'enter thou into the joy of thy lord' (Matthew 25:21).
Although an incredible achievement, this influential work was translated from German and Latin editions of the Bible rather than the original Hebrew or Greek. Although a seemingly small matter on first glance, this was seen as an important point of spiritual concern, and Coverdale's 1535 Bible was judged as insufficiently scholarly. The Hebrew, Aramaic and Koine Greek texts are viewed as the original biblical languages. Every translation produced runs the risk of the translator, through either error or necessity, altering words or phrases and thus corrupting the meaning of the text. A translation of another translation runs even greater risk of errors or corrupted understandings creeping in, with the newest translator relying on the former's accuracy as well as their own. There was great anxiety that scriptural errors could risk the spiritual health of the unsuspecting reader.
Despite this, Coverdale's acclaim was such that he went on to help revise the Great Bible: the first royally approved translation of the Bible into English.
Images
Image 1: Title page from Coverdale Bible ([Cologne?], 1535). CCL H/N-8-6
Image 2: Closeup of Henry VIII from title page of Coverdale Bible ([Cologne?], 1535). CCL H/N-8-6
Image 3: Closeup of Henry VIII from title page of The Great Bible ([Paris and London], 1539). CCL W/S-17-1 
Further reading
'Coverdale, Miles (1488-1569)' in Oxford Dictionary of National Biography (2009) https://doi.org/10.1093/ref:odnb/6486
Fry, The Bible by Coverdale MDXXXV (Willis & Sotheran, 1867)
A digitised edition of Coverdale's 1535 Bible can be found at: https://publicdomainreview.org/collection/the-coverdale-bible-1535
Share