Item 8: Martin Luther and the pamphlet war at Wittenberg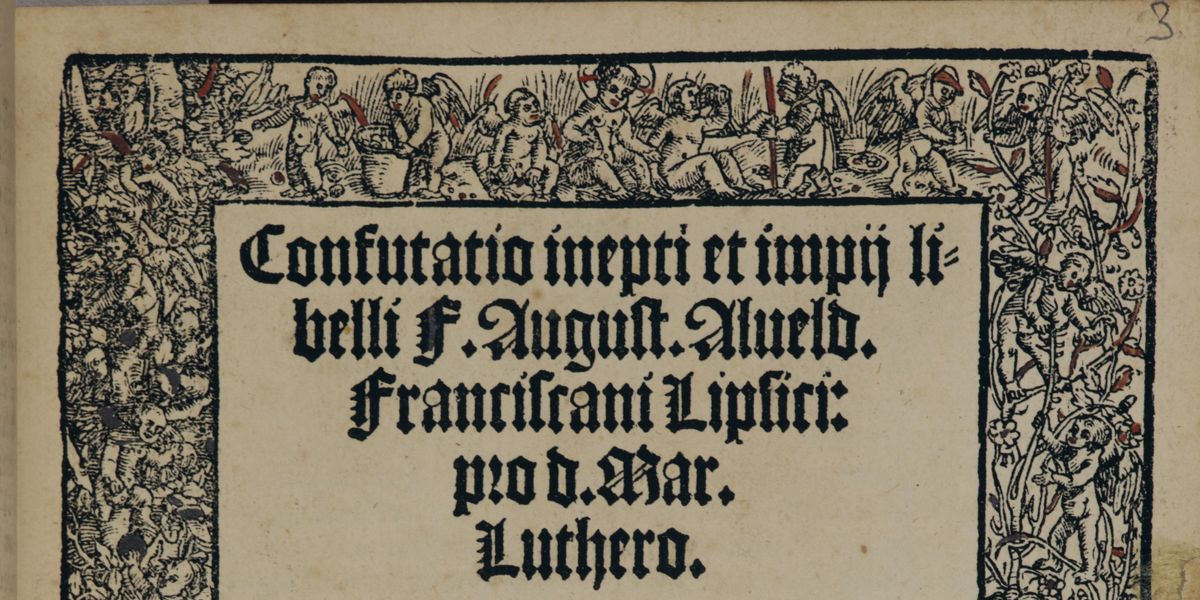 Author: David Shaw, Cathedral Library volunteer
Everyone knows the story about Martin Luther pinning a copy of his 95 theses to the door of the
university church in Wittenberg in 1517, which started a movement leading to the fracturing of the medieval Catholic Church. His theses were a list of topics for debate at the university about the sale of indulgences, which were bought in the belief that they could forgive sins and thus reduce a person's time in purgatory after death. The theses were printed and widely sold across Germany in several editions.
The church authorities reacted quickly to condemn Luther, who was eventually excommunicated. The Pope issued a bull condemning 'the errors of Martin Luther and his followers', which was also widely printed. But it was too late: the new ideas found a ready audience and Luther proved to be an able propagandist. His pamphlets in German and in Latin were printed in Wittenberg and copied in large quantities by printers elsewhere in Germany. Supporters of the church's position produced their replies to Luther and a large-scale pamphlet war ensued.
The Cathedral Library has a volume containing several of the pamphlets written by Luther and his supporters (CCL H/L-4-5). One of the most famous is Luther's De captivitate Babylonica ecclesiae ('On the Babylonian captivity of the church'). It attacks the church authorities and the Pope in particular for holding the church in subjection, just like the captivity of the Israelites in Babylon by King Nebuchadnezzar.
The tone of the debate became increasingly bitter. Luther attacked the Pope as the Antichrist and the supporters of the papacy replied in kind. Not everyone agreed with this development and some of Luther's early supporters such as Erasmus stepped back, causing Luther to attack them too. The eventual outcome of the pamphlet war was of course the establishment in Germany of an alternative to the Catholic Church, which helped to stimulate protestant movements in other countries such as England.
People who did well out of the pamphlet war included the printers in Wittenberg such as Melchior Lotter, whose imprint can be seen clearly on the title page of Luther's Confutatio.
Images:
• Image 1: Single page printing of the Ninety-Five Theses (1517). Image from https://en.wikipedia.org/wiki/Ninety-five_Theses#/media/File:Luther_95_Thesen.png (public domain)
• Image 2: Title page from De captivitate Babylonica ecclesiae (Wittenberg, [1520]). CCL H/L-4-5(6)
• Image 3: Title page from Confutatio inepti et impij libelli F. August. Alueld (Wittenberg, 1520). CCL H/L-4-5(3)
Share