Item 7: Cashing in on a new invention: Aldus Manutius, italic type and small-format books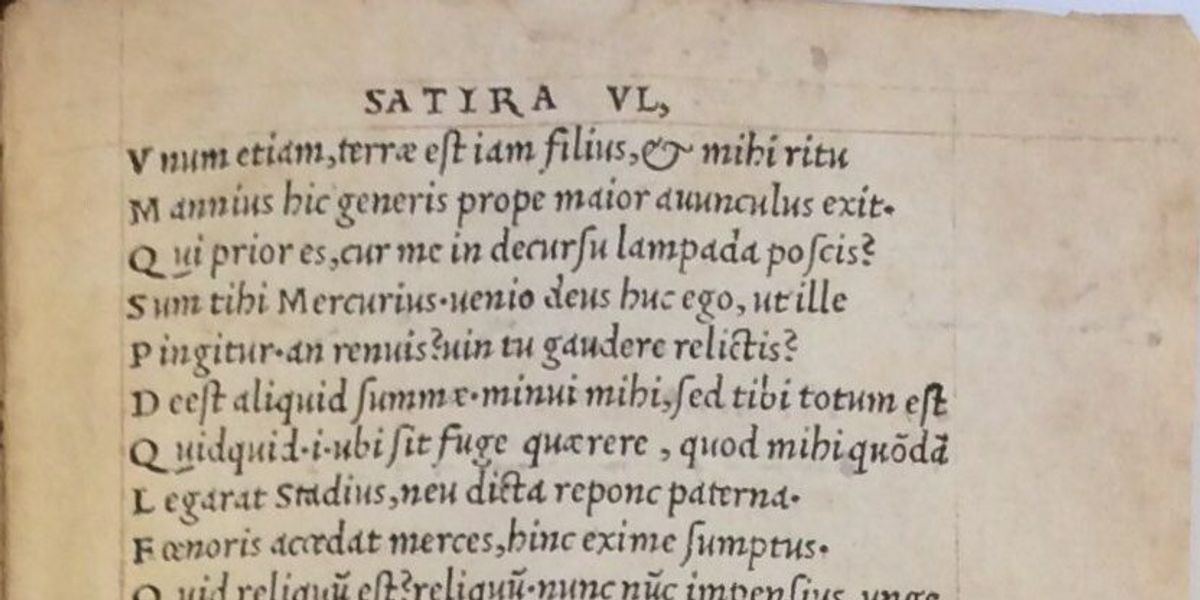 Author: David Shaw, Cathedral Library volunteer
The year 1501 saw an important innovation in the rapidly expanding printing industry. The Venetian printer and bookseller Aldus Manutius (Aldo Manuzio, c. 1450–1515) commissioned an italic typeface from the engraver Francesco Griffo in imitation of the sloping handwriting of contemporary Italian scholars. Most printing up to 1500 had been done either in roman type (on which our modern printing types are based) or in several varieties of gothic type. Aldus was already famous for the scholarly works he had published in Venice in the 1490s, particularly those in greek type. The Cathedral Library has a copy of his 1495 edition of the Greek grammar of Theodore of Gaza (shelfmark W/S-12-2).
In addition to a new style of printing type, Aldus introduced a significant change in book format. Almost all books printed in the fifteenth century had been big books: folios or quartos. In 1501 Aldus started publishing a series of classical texts in the much smaller octavo format which had scarcely been used by printers before. He even had a new size of printing paper commissioned which gave an elegant, slim appearance to his books in their new italic type. He published editions of the Roman poets Vergil, Horace, Juvenal and Martial and also the Italian poet Petrarch. He called them enchiridia or books which could be held in the hand.
The Venetian Senate granted Aldus a 'privilege' (a monopoly) for his new typeface so that he could exploit his investment without competition. Unfortunately, his new privilege was only valid in the Venetian territories. Within a year, a publisher in the French city of Lyon had commissioned a close copy of Aldus's italic type and in 1502 started to print counterfeit copies of Aldus's new publications which were page-for-page look-alike reprints of Aldus's originals. Image 1 shows the first Lyon counterfeit edition: there is no printer's name or date and the errata list has blank spaces because the printer had no greek type.
As can be imagined, Aldus was not pleased. In 1503 he issued a Monitum (warning) complaining about the inaccuracy of these pirated copies. As Aldus continued to publish further works in his new pocket series, the canny French publishers continued to produce pirate editions and even reprinted the first works, using Aldus's Monitum to correct the mistakes which he had listed. It is unfortunate that all good new inventions are quickly borrowed and copied.
Small pocket-sized books of poetry in italic type soon became standard all over Europe. Aldus's innovation remained famous and copies of his original editions were sought after by book collectors. Even the pirated copies produced in Lyon were collectable. The Cathedral Library does not have copies of any of the original Aldine editions, though it does have a small number of octavo editions printed in Venice by Aldus's son-in-law and successor Franciscus Asulanus: a 1518 edition of Pomponius Mela (W2/X-3-25); a 1520 edition of Quintus Curtius, Historia Alexandri Magni (H/L-9-30); and a Cicero of 1523 (W2/X-3-26/27).
However, the Cathedral Library does have one book (CCL W2/X-3-34, images 2 and 3) printed by the counterfeiters in Lyon. It is an octavo edition of the works of Prudentius and other Christian Latin poets, printed in Lyon in 1502 or 1503. It is printed in their copy of Aldus's italic type and looks just like a typical Aldine octavo, but it is a slightly unusual case as Aldus had not in fact issued an octavo edition of this text. He had printed two volumes of the Latin and Greek Poetae Christiani starting with the Prudentius in the larger quarto format and in roman type, not italic.
The pirates in Lyon clearly saw an opportunity to market a reduced version of the Latin text of this work in their imitation of the Aldine format, in the expectation of finding willing purchasers. And as before, there was nothing much Aldus could do about it.
Images
Image 1: Colophon of 1502 Lyon counterfeit Juvenal. Photograph of copy in the Houghton Library, Harvard University, with permission.
Image 2: Title page of the 1503 counterfeit Prudentius. CCL W2/X-3-34.
Image 3: First text page of 1503 counterfeit Prudentius. CCL W2/X-3-34.
 References and acknowledgments
Prosper. Ioannes Damascenus. Cosmus Hierosolymitanus Marcus episcopus Taluontis Theophanes. [Lyon]:[Barthélemy Trot?], [1502/1503], 8°. Canterbury Cathedral Library W2/X-3-34, with previous owner's initials 'D. P. F.' and another illegible ownership inscription.
The Bayerische Staatsbibliothek, Munich, has digitised its 1501 octavo copy: http://mdz-nbn-resolving.de/urn:nbn:de:bvb:12-bsb10812689-8.
Aldus's 1501 quarto edition of Prudentius has been digitised by the Universidad Complutense, Madrid: https://hdl.handle.net/2027/ucm.5320773300.
David J. Shaw, 'The Lyons counterfeit of Aldus's italic type: a new chronology', in: The Italian book 1465–1800: Studies presented to Dennis E. Rhodes on his 70th birthday, edited by Denis V. Reidy, The British Library, London, 1993, pp. 117–133.
Share