Item 3: Glossed Books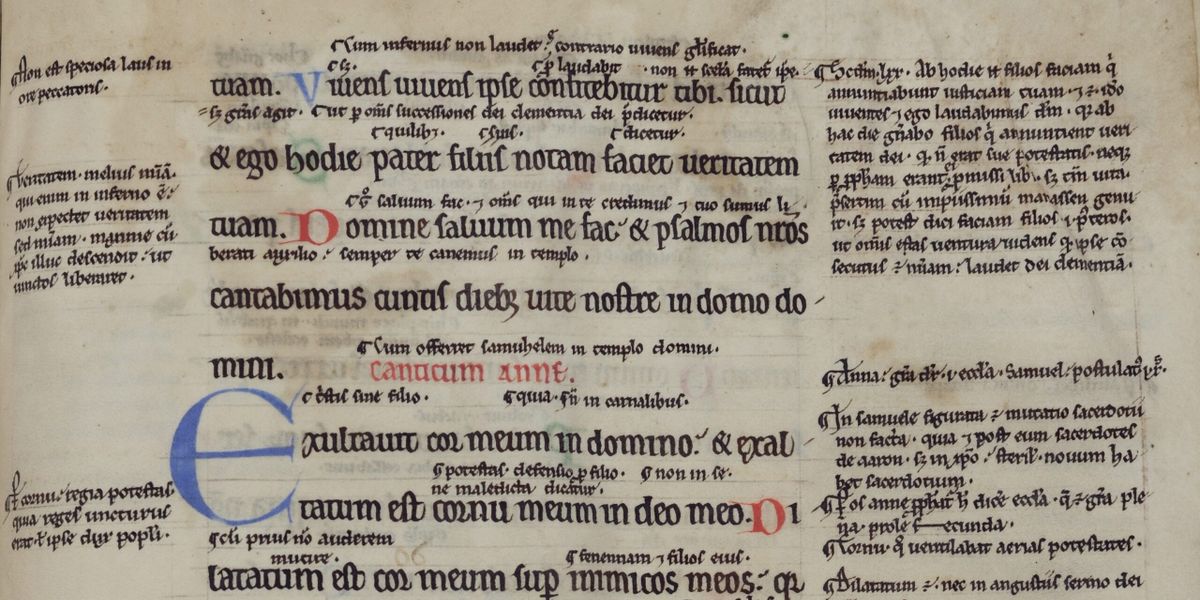 Author: Pietro Mocchi, PhD candidate, University of Kent
The previous post examined an early, experimental stage in the development of glosses in medieval books. The volume considered here (DCc/LitMs/A/13) is a later specimen, which displays a more consolidated version of glossing.
This volume includes a near-complete early fourteenth-century copy of the commentary by the Franciscan philosopher Duns Scotus (died 1308) on the Sentences written by the theologian Peter Lombard in the mid twelfth century. This book belonged to a monk of Christ Church Canterbury. It does not have a system of glosses but displays some marginal comments. Indeed, the text is organised in two columns, as was common for scholarly texts of the time, in order to leave space for the reader to add annotations, especially in the side and bottom margins. The annotations could have a range of purposes, such as signalling where different arguments were found in the text, adding textual variants or references to other works, or simply personal comments. In general, they were useful to help the reader navigate the text more quickly, along with the paragraph marks in blue or red, and the coloured initials.
Of more interest are last four folios of the volume, which form a fragment of an earlier manuscript, and were added in the late middle ages as end-leaves to the commentary on the Sentences. This fragment features canticles from the Old Testament. The style of its early Gothic script indicates that it was probably written at Christ Church in the second half of the twelfth century, some decades after the Eadwine Psalter and the Dover Bible, perhaps the best-known productions of the Christ Church scriptorium from the mid twelfth century.
The high quality of the parchment, the calligraphic script of the main text, and the rubricated initials signify these folios were part of a high quality, expensive book. There is ample room in the margins and between each line in order to allow space for both marginal and interlinear glosses. These glosses consist of extensive commentaries and textual interpretations taken from the writings of Church Fathers and later writers, including Bede.
Glosses were not just used for works of scriptural commentary. They assisted scholarship across many disciplines and are considered a typical feature of the era of 'scholasticism', the system of philosophy, theology and teaching in medieval Western Europe. For instance, glosses were used extensively in works on law, and the first generations of jurists of medieval universities, from the late eleventh century, are known as the 'glossators'. Glosses of legal texts, such as Justinian's Digest, were redacted by professors or their students, and copied along with new additions. The apex of this tradition was probably the so-called Magna glossa (the Great Gloss) or Glossa ordinaria (Ordinary Gloss) by the Italian jurist Accursio, produced in the mid thirteenth century as a gloss on the fundamental body of Roman Law, the Corpus Iuris Civilis.
Bibliography: Richard Gameson. The earliest books of Canterbury Cathedral. London, The Bibliographical Society, 2008
Randall Lesaffer. European Legal History. Cambridge, Cambridge University Press, 2009
Share