Item 20: Digitising the collections: Dean and Chapter newes from Canterbury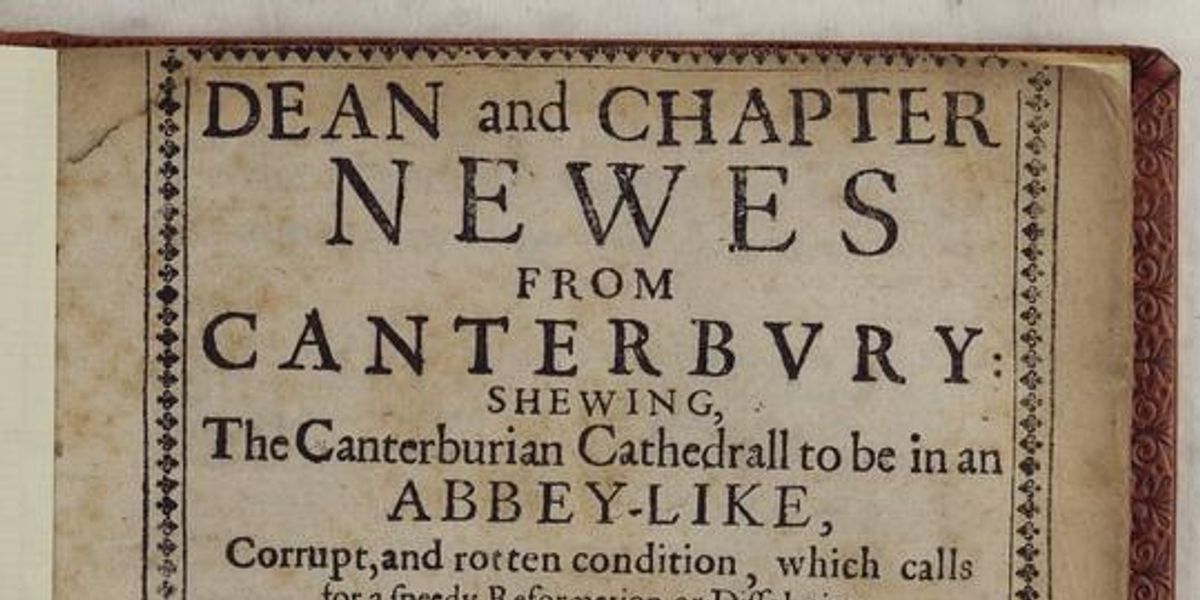 Author: Dr. Toby Huitson, Digitisation Officer.
The act of digitising is converting analogue data (such as a printed book, an object, a video made on film, or perhaps a work of art) into a digital form. We digitise items for a variety of reasons. Some analogue forms of records such as tapes are in danger of becoming unplayable as they age or as the machines they depend on for use become rarer. In such cases, items are digitised to ensure that such information is not lost. In other cases we digitise items to allow greater access to them – for example, a very fragile and rare item is at increased risk with every time it is handled or removed from climate-controlled storage. A digitised copy of such an item, however, will allow thousands of people to access the item and the knowledge or beauty it contains without risking the original. (Fawn Todd, Librarian)
Researchers often ask if the Archives and Library holdings have been digitised – a seemingly innocent question, but one which betrays either a good sense of humour or blissful ignorance of the full implications! We usually say to groups that the Archives holdings alone are the equivalent of a shelf mile, or 33 times the height of Bell Harry tower – and that figure doesn't include the c.50,000 Library books! With only one part-time member of staff available to photograph them (myself), and many calls on my services from internal and external enquiries, cataloguing, digitising fragile Anglo-Saxon documents through to minidiscs and VHS tapes, few books (which are generally stable items) make it onto the camera table. Those which do, appear by special request, usually for a couple of specific pages rather than capturing from cover to cover.
As books in our collections are usually large tomes (certainly compared with most archive manuscripts), we rarely capture them in full. Typically there is a particular aspect requiring capture, such as the hand-written annotations in Somner's Antiquities of Canterbury (CCL W/S-11-14), or the drawings of plants in Gerard's 17th-century Herball (CCL H/G-3-21).  Library items are sometimes much smaller in scale, such as the 1649 pamphlet Dean and Chapter newes from Canterbury (CCL Cheker Box 4/21). In this pamphlet the infamous Richard Culmer, who is known for his wanton destruction of priceless stained glass windows which he deemed idolatrous, writes in defence of his rather unpopular actions against the Cathedral.
The decision to capture the whole 36 pages of the pamphlet was made due to its wide interest and so that the text could still be accessible to researchers while the original goes on display. Interested readers can view the fully digitised work on our website.
One interesting request was to photograph some pages from the Nuremburg Chronicle of 1493 (CCL W/S-18-1). One is a woodcut showing Bethlehem, with angular houses in perspective and a series of round-bellied pots in a courtyard labelled 'Bethlm'. Woodcuts often benefit from the use of a macro lens to enlarge the fine detail of these miniatures.  Another page is a large drawing of the heavens, shown as a series of concentric circles with stars, sun and moon orbiting around the earth (the pre-Copernican view) with the hand of God outside, all contained within a square box. An unusual request was to photograph a page with only a page number, but otherwise entirely blank! Undoubtedly this was of far greater bibliographic curiosity than as an electrifying subject for the lens.
One of my personal favourites was capturing some woodcuts from The vertuose boke of distyllacyon (CCL W/S-11-12), published in 1527. The title page, printed in red and black type, shows various pieces of weird and wonderful alchemical equipment. On another page is a circular brick-built furnace with a round-headed arch, with smoke emanating from tuyeres by a conical roof crowned by a finial, a pipe going into a flask with a deckle-edged base, and some plants in the foreground. It's a fascinating insight into the state of knowledge in the early 16th century, and shows how science could be elegant as well as technical.
Images
Image 1: The front binding of Culmer's Dean and Chapter newes from Canterbury (London, 1649). CCL Cheker Box 4/21
Image 2: Title page of Culmer's Dean and Chapter newes from Canterbury (London, 1649). CCL Cheker Box 4/21
Image 3: Woodcut depiction of the heavens, from Liber chronicarum (Nuremberg, 1493). CCL W/S-18-1
Image 4: Woodcut depiction of a furnace, from The vertuose boke of distyllacyon (London, 1527). CCL W/S-11-12
Further reading
The full digitised copy of Richard Culmer's Dean and Chapter newes from Canterbury (CCL Cheker Box 4/21) can be accessed here: https://ims.canterbury-cathedral.org/viewcontainer.tlx?containerid=58889840791
Share