Item 2: the St Paul's Epistles from St Augustine's Abbey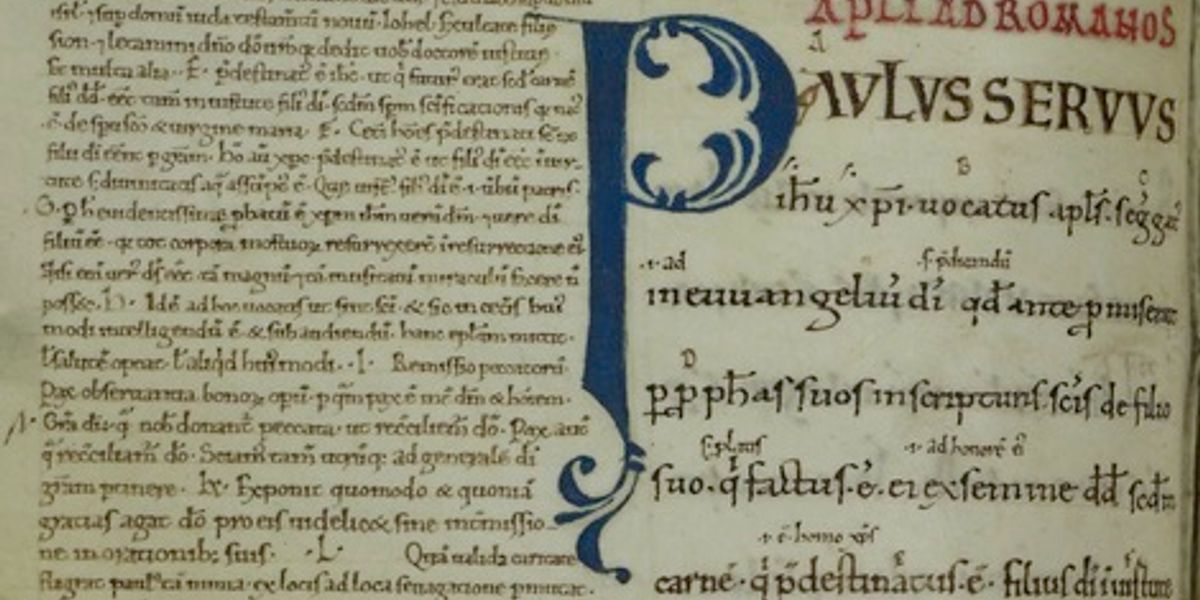 Author: Pietro Mocchi, PhD candidate, University of Kent
The Norman Conquest was a turning point in English history. It brought long-lasting social, political and cultural changes. Even before then, there had been networks of book circulation between Anglo-Saxon England and the Continent, in particular France and Flanders. Canterbury had been an important hub, by virtue of its two major religious houses, the Cathedral Priory and St Augustine's Abbey, and its geographical proximity to the Continent.
William the Conqueror's victory at Hastings critically intensified those existing cross-Channel exchanges. Many moved from Normandy to England, some assuming positions of power, not only as laymen, but also within the Church, as bishops or as heads of religious houses. The influx of Normans into religious houses led to a steep increase in book production, to enrich and expand their libraries.
The codex discussed here (DCc/AddMs/172) was produced at St Augustine's Abbey in the immediate decades after the Conquest. It clearly demonstrates the impact of the Conquest on book production. The volume is made of three different sections, which were all compiled separately in the late 11th century and bound together shortly after: they are the Song of Songs, the Epistles of St Paul with a gloss (an apparatus of explicative comments, usually written in the margin), and the Book of Revelation. The various hands in which the manuscript is written are very different and a trained eye can learn a lot from them about the origin of this book.
The hand which wrote the section of the Song of Songs presents features that link it to the abbey of Mont-Saint-Michel in Normandy. It is probable, then, that this part of the manuscript arrived in Canterbury with the monk Scolland, who was a scribe at Mont-Saint-Michel and who became abbot of St. Augustine's in 1070. Alternatively, it may have been written in Kent by someone from the abbey, maybe Scolland himself.
The middle section, with St Paul's Epistles, is even more telling of the intensity of cross-Channel relations and of the diversity of St Augustine's monastic community. Five different people contributed to the production of this section. Only two of these hands present characteristics typical of St Augustine's. Another adopted that local style, while still conserving some Low Countries features, suggesting that he had probably learnt to write there, and moved to Canterbury later in his life. The two other scribes probably came from Normandy, as did the monk who wrote the section of the Book of Revelation. The picture that emerges is that of an 'international' monastic community, in which scribes from different origins worked side by side, contributing together to the enrichment of their monastery's library.
Another important aspect of this manuscript is the gloss which accompanies St Paul's Epistles. It is the earliest surviving example a gloss composed by Lanfranc (formerly prior of the abbey of Bec and abbot of St Stephen's Abbey in Normandy, and Archbishop of Canterbury from 1070) on these books of the New Testament. We know that in 1076 Lanfranc asked Anselm, his successor as prior of Bec, to send him an exemplar, now lost, of his gloss. The Cathedral's manuscript must be a copy, direct or indirect, of that book sent by Anselm to Lanfranc.
At the time, glosses were not as common as they would later become. Our manuscript, whose small size (190×126 mm) makes it rather difficult to read, is an example of a stage of experimentation with this way of organising knowledge, which would be of vital importance for the upcoming Scholastic tradition.
Share