Item 19: The Illustrated London News in colour: a technological triumph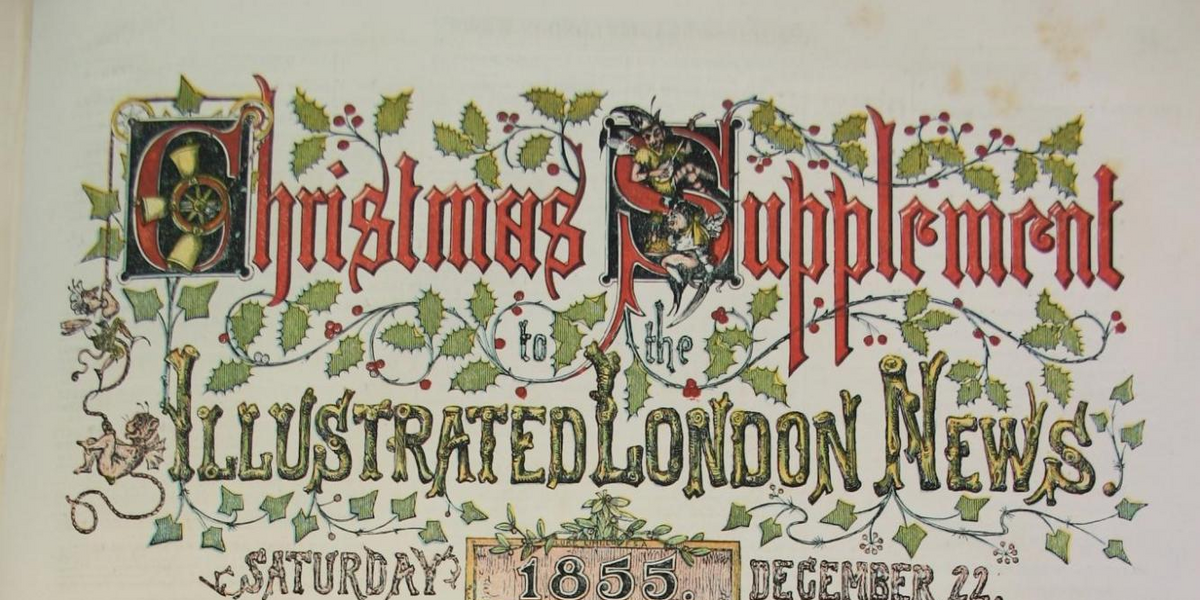 Author: Fawn Todd, Cathedral Librarian
We've previously looked at the importance of accurate images, and the ability to print an image in full colour was a further significant achievement in the history of the book. The 8 page Christmas supplement that appeared in the Illustrated London News on Saturday 22nd December 1855 (CCL H/Yy-7-8) included something rather unexpected for regular newsprint readers: a full-colour cover, and three full page colour images. This is the first time a British newspaper was printed in colour, and would certainly have made quite a statement next to the usual expected black and white print.
For centuries, due to the complexities of coloured ink and producing quality printed colour images on the hand-press, it was often cheaper and more effective to add colour to a basic printed outline image. The process towards developing a workable technique for printing colour images was a very gradual one. Methods developed in the seventeenth and eighteenth centuries such as chiaroscuro, mezzotint, and aquatint were expensive, time-consuming and laborious. As the cost of producing and printing a substantial number of fine images for a volume would often double the production cost for the book, their usage was limited mostly to particular types of work which necessitated their use or bore out the costs involved.
The difficulty with printing full-colour images was that each separate colour needed to be printed with a different pass over the press. This required extensive planning, as images needed to be divided into separate workings for each colour used. This in turn produced a further technical difficulty: registration, or ensuring that each colour is positioned exactly when printed. A minor mistake on either part would produce an image that was jarring; a printer needed exceptional skills to uniformly produce pristine results.
The need for the ability to print full colour illustrations in an economically viable way was becoming more pressing by the start of the nineteenth century. Whereas before much of the demand was able to be met with hand-coloured illustrations, the mechanisation of print meant that print runs were now far too large for this to be a practical solution. As with much of the Industrial Period, requirement drove innovation.
The crude but effective colour images printed in the Illustrated London News' 1855 Christmas Supplement were produced by George Cargill Leighton (1826-1895). The designs were first engraved as woodcuts, and the impressions then coloured by etched tone blocks. Although the results were somewhat unrefined, Leighton had proved that colour printing could be achieved at the speed and low cost which publishers had long yearned for.
Images
Image 1: Full-colour cover for the 1855 Christmas Supplement in The Illustrated London News ([London], 1855). CCL H/Yy-7-8
Image 2: 'Returning from church, Christmas Morning' print for the 1855 Christmas Supplement in The Illustrated London News ([London], 1855). CCL H/Yy-7-8
Image 3: 'Bringing in the boar's head' print for the 1855 Christmas Supplement in The Illustrated London News ([London], 1855). CCL H/Yy-7-8
Image 4: 'A Christmas carol' print for the 1855 Christmas Supplement in The Illustrated London News ([London], 1855). CCL H/Yy-7-8
 
Further reading
M. Burch, Colour Printing and Colour Printers (1910)
Philip Gaskell, A new introduction to Bibliography (Oxford, 1974)
Michael Twyman, The British Library Guide to Printing: History and Techniques (London, 1998)
Share