Item 17: Fine binding: judging a book by its cover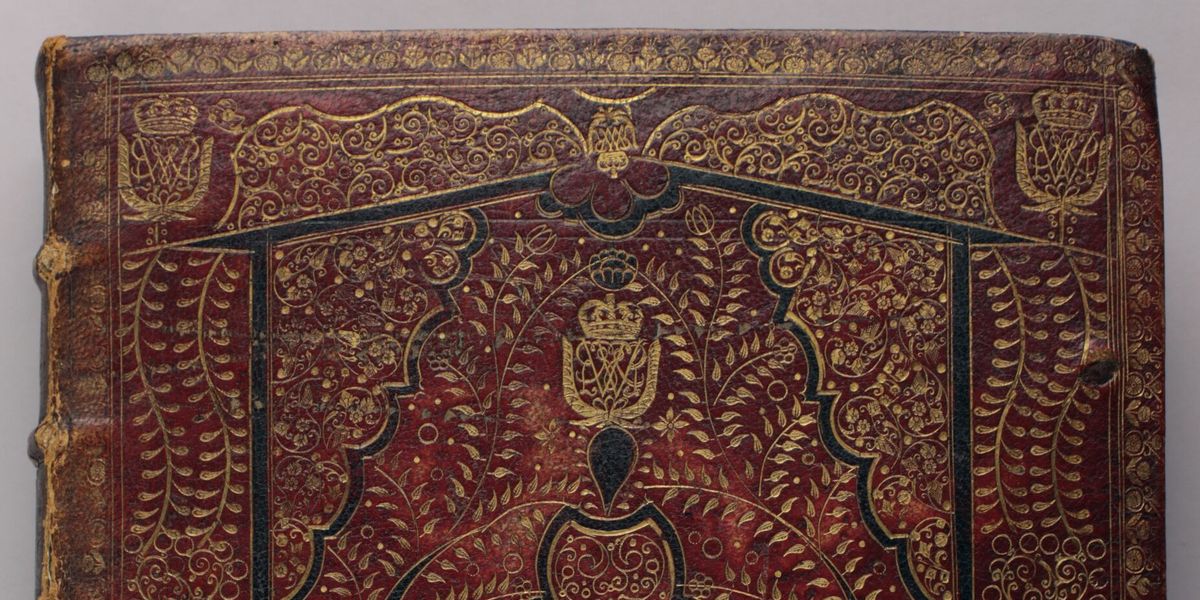 Author: Fawn Todd, Cathedral Librarian
Can you judge a book by its cover? Sometimes! The inclusion of a fine binding can provide many clues as to its intended use and owners. The term "fine binding" refers to a decorative binding on a book, and can range from a leather-binding with gilt edges, to a cover that may even be embroidered or studded with jewels. Over the centuries there have been many master binders who have produced magnificent works of art to wrap books in, loved by book owners, readers, and collectors alike.
This gorgeously bound volume (CCL STRONG ROOM H/N-8-9) is one of them. The work itself is a 1682 Bible (with a 1688 title page), but it's the binding that is the real star of the show. Bound in a rich red goatskin, the cover sports black painted detailing contrasted with delicate gold tooling depicting flowers, swirling vines, and grapes. The cover is bordered with a distinctive angular black painted frame, for which this style of 17th century binding, known as a "cottage roof" design, is named. Keen eyes may notice a royal cipher repeated in gold across the binding: a crowned W and an M for William III (1650-1702) and Mary II (1662-1694), and 'R' for Rex/Regina. Their sudden ascendance to the throne in 1689, discussed in a previous article, caused waves across the country.
Small patched points on the edges of both the front and back binding (with evidence of rubbing around them) indicate that there were once clasps or ties attached to the volume which have since been removed.
This delicate artistry was undertaken by Robert Steele (d.1711), who seems to have taken over the business, as well as the distinctive specialist tools, of the famous Mearne bindery after the death of Charles Mearne in 1686. The binding displayed here is certainly very similar to other bindings created in Steele's workshop. Steele had apprenticed under the original master of the Mearne bindery, Samuel Mearne from 1667-1675. The Mearne bindery was well known for favouring the cottage roof design seen on this cover.
The ciphers across this binding, coupled with its originating from the successor of the Mearne workshop, mean that it is highly likely that this volume was once in one of the Chapels Royal (a church building within a royal palace) during William and Mary's reign. As it was usual for the fore-edges to be painted with royal ciphers and emblems in books bound for the monarch, this volume is unlikely to been directly used by William and/or Mary themselves as the foredges are undecorated. This suggests that it may therefore have been used by one of the clergy employed in the royal chapels.
This certainly isn't the only fine or interesting binding in the collections. A taster of the range of artistry can be seen below, with gold-tooling and painted decorations (CCL H/N-8-12), once-gleaming metal furniture (CCL W/O-5-8), and items bound in Chinese silk (CCL W/S-19-17). Each of these unusual bindings has its own, fascinating story to tell.
With thanks to Philippa Marks of the British Library for her invaluable help in identifying the use of Robert Steel's tools on this binding.
 Images
Image 1: Binding of The Holy Bible (Oxford, 1682). CCL STRONG ROOM H-N-8-9
Image 2: Closeup of royal cipher on the binding of The Holy Bible (Oxford, 1682). CCL STRONG ROOM H-N-8-9
Image 3: Binding of The Holy Bible (Oxford, 1682). CCL H/N-8-12
Image 4: Binding of The Bible (London, [1578]. CCL W/O-5-8
Image 5: Binding of [Silk-bound manuscript notebook of Chinese words in their written and phonetic forms] ([c.1768-1773]). CCL W/S-19-17
 Further reading
Nixon, The history of decorated bookbinding in England (Oxford, 1992)
Fine bindings 1500-1700 from Oxford libraries : catalogue of an exhibition. (Oxford, 1968)
Oxford Dictionary of National Biography, 'Samuel Mearne' <https://doi.org/10.1093/ref:odnb/52143>
Share