Item 16: The 1743 printed catalogue of the Cathedral Library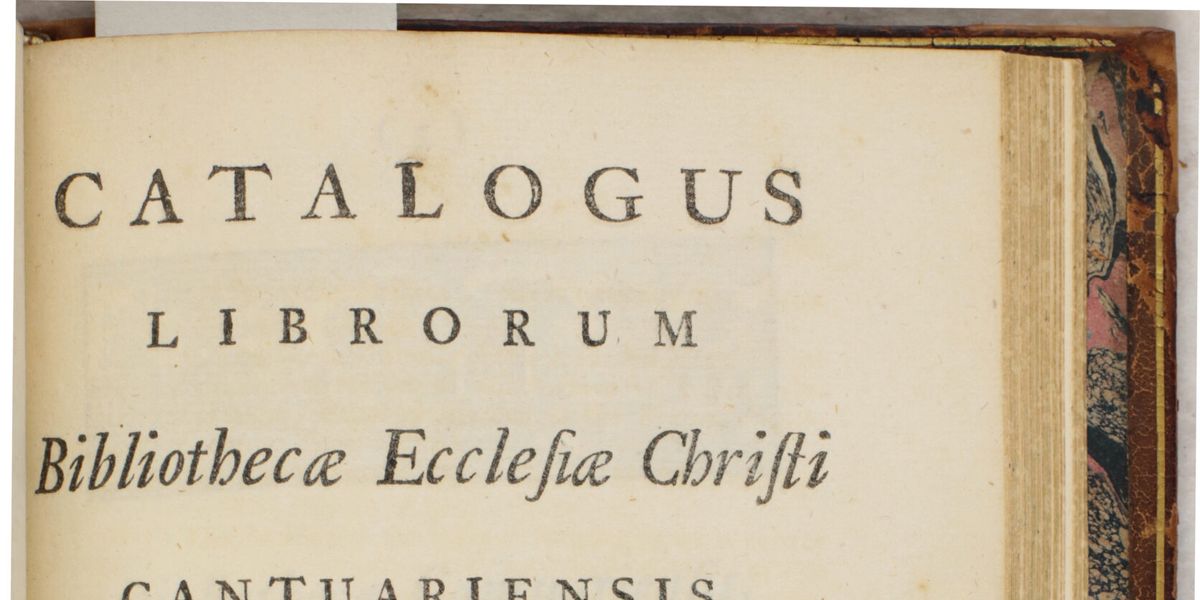 Author: David Shaw, Cathedral Library volunteer
A library of any size needs tools to help its users find its books and for its staff to manage their collections. There are surviving seventeenth century inventories for the Cathedral Library's printed books giving simple lists of the contents of the library for administrative purposes, and in the Treasurer's Books there are entries which mention payments for making catalogues, however the Cathedral Library has no surviving catalogues from before 1700. This makes our copies of the 1743 printed catalogue a fascinating snapshot into library history.
An example of what the earlier catalogues probably looked like is found in a surviving hand-written catalogue from the 1720s compiled by the Canon Librarian Dr David Wilkins (CCA DCc-LA/2/5: Catalogus librorum bibliotheca ecclesiae Christi Cantuariensis iuxta ordinum classium dispositus). It gives fairly full details of each book, but they are listed in shelf order, not alphabetical order, which makes the catalogue more useful for administrative purposes than as a catalogue for library users.
By 1743 the Dean and Chapter felt the need for a more accessible catalogue. The Canterbury printer James Abree was paid five guineas in November 1743 for printing 100 copies of a new catalogue drawn up by the Auditor (chapter clerk) Samuel Norris, assisted by the Rev. Dr Robert Eyre. This is entitled Catalogus librorum bibliothecæ ecclesiæ Christi Cantuariensis with the imprint Cantuariæ: typis Jacobi Abree, MDCCXLIII. The Cathedral Library has two copies of this catalogue, one from the Elham Parish Library (CCL Elham 1315) and one acquired as the personal copy of a later cathedral librarian H. J. Todd who adds a note with the names of the two compilers (CCL W2/Q-3-8(2)).
It is not really a very helpful catalogue as it gives only a very brief listing by author and title with no indication of the date or place of publication and, more importantly, it does not give shelf marks to enable the books to be found in the Library. Presumably a book would be requested from the library keeper who would know where to find it in the Library and who probably kept a marked-up copy giving shelf locations, which is now lost.
The single entry for Shakespeare gives no details beyond 'Shakespear's Plays. 7 vols.' (p. 91). Sir Isaac Newton gets five entries (p. 73):
Newton on the prophecies of Daniel.
— — Optics.
— — Philosophiae nat. Principia mathem.
— — Chronologie.
— — Philosophy per Pemberton.

Canterbury's most famous seventeenth-century scholar and the Cathedral's own former auditor, William Somner, gets six entries (p. 91):
Somner his Life and Hist. of Gavelkind.
— — ad vet. verba Germanica Lipsiana notae.
— — Dictionariun Saxonico propria manu.
— — Portus Iccius.
— — Antiquities of Canterbury cum Correct. propria.
— — Idem, cum secunda parte per Battely.


The catalogue was printed on one side of the page only, with an extra blank leaf after each page. This gave space for writing in details of new additions to the Library or corrections and additions to the catalogue.
Happily for library users today, the catalogues that followed later were much more useful ones and, from 1979 onwards, brought the Library into the modern age when a computer-based catalogue was created which was the basis for the present-day catalogue forming part of the online catalogue at the University of Kent.
Images
Image 1: Title page from Catalogus librorum bibliothecæ ecclesiæ Christi Cantuariensis (Canterbury, 1743). CCL W2/Q-3-8(2)
Image 2: First page from Catalogus librorum bibliothecæ ecclesiæ Christi Cantuariensis (Canterbury, 1743). CCL W2/Q-3-8(2)
Image 3: Double-page spread from Catalogus librorum bibliothecæ ecclesiæ Christi Cantuariensis (Canterbury, 1743). CCL W2/Q-3-8(2)
 Further Reading
Digitised copies of two Canterbury Cathedral Library printed catalogues can be viewed at:
Share