Item 14: Pamphlets, Propaganda, and Invasion: 'The Prince of Orange his declaration'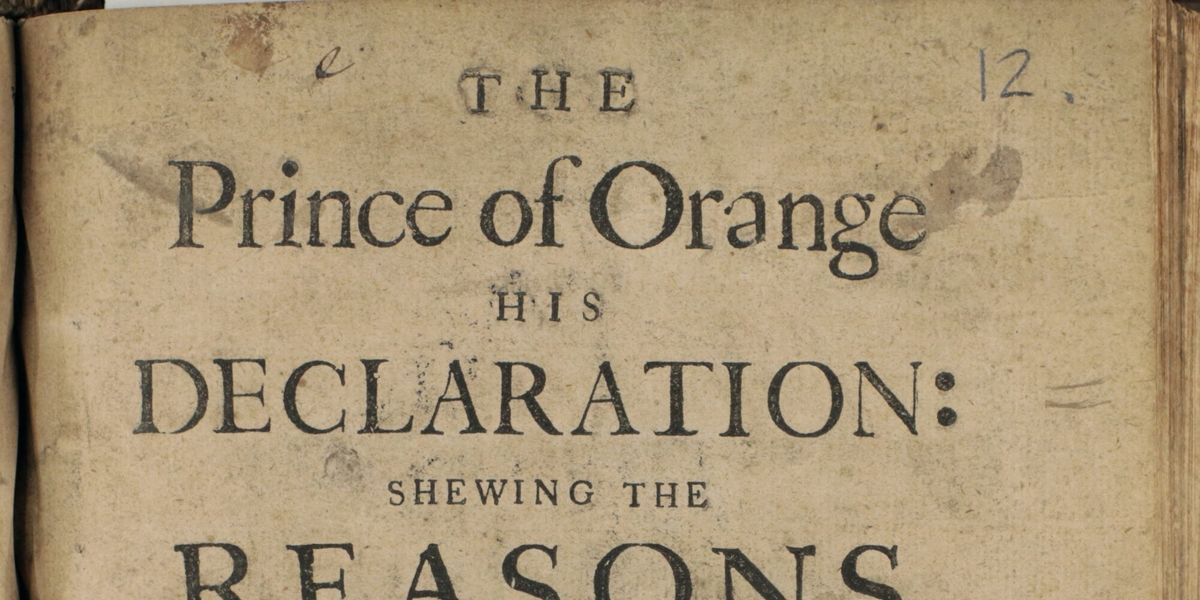 Author: Fawn Todd, Cathedral Librarian
Refined through the course of the tumultuous seventeenth century, the potent combination of cheap print and eloquent, forceful argument meant that by 1688 the humble pamphlet was a powerful political tool for spreading news and political messages to the masses. So successful, in fact, were the influencing powers of pamphlets that they helped to shape history. More than 330 years later, many today believe that Britain has not been successfully invaded since 1066: the successful use of propaganda during "The Glorious Revolution" of 1688-1689 re-spun what was effectively an invasion into a liberation of the country.
30 years after the restoration of Charles II to the throne in 1660, following 18 years of bitter civil war and a shaky Commonwealth, the country was once again on the verge of civil war. Under James II (1633-1701), crowned in 1685, the country had again become dangerously divided along religious and civil liberty lines. The largely Protestant country had a ruler on the throne with clear Catholic leanings. The birth of an heir in 1688 raised the prospect of a Catholic dynasty ruling the country, and coupled with James II's failed attempt at prosecuting the Seven Bishops for seditious libel, unrest sparked into riots in England and Scotland. English nobles "invited" the Dutch William of Orange to depose the king and take the throne in the name of his wife Mary, the Protestant daughter of James II. Just a few months later, on 5th November 1688, Mary and William landed with an army. James II's army deserted, and the king shortly after fled into exile.
A whirlwind of pamphlets circled the takeover of England by William of Orange, and the Library holds at least 21 pamphlets printed (and reprinted) between 1688 and 1699 regarding the event and arguments around it. Together, they form a fascinating picture of the ways in which print was used to declare allegiances and influence attitudes. The authors are various, including the Prince of Orange himself, the Church of England, planner of the Rye House plot assassination attempt on James II, a Scottish physician, nonconformists, and rectors.
The primary pamphlet written in support of the Prince of Orange's actions was unsurprisingly his own, entitled The Prince of Orange his declaration shewing the reasons why he invades England… (1688). It did not escape rebuttals, however. The Cathedral Library holds a copy of The Prince of Orange his declaration shewing the reasons why he invades England : with a short preface, and some modest remarks on it. (1688) (CCL H/Y-5-15(12)). This 32 page pamphlet reprints the Prince of Oranges's Declaration, but with a preface and commentary countering it, encouraging the reader to approach William's message with this argument in mind. The anonymous critic states that the rumours surrounding James II 'are with so much Art and Cunning spread', and that it is '… unlikely any sort of Englishmen should by this Invasion gain any thing but Misery.' They express shock that, for personal gain, the Prince of Orange would '…dethrone the King, unprince his Son, and seize the Crown for himself…'! The pamphlet, with its magnificent and fierce defence of Country, Honour, Faith, and the King, is perhaps best summarised in the echoing line:
'…we know and we Honour William Henry Prince of Orange, but we know not William Henry King of England otherwise than for an Enemy.'
Images
Image 1: Title page from Robert Ferguson's The Design of Enslaving England Discovered (London, 1689). CCL Cheker Box 10/9
Image 2: Title page from Church of England's A form of prayer and thanksgiving to Almighty God, for having made … the Prince of Orange the glorious instrument of the great deliverance of this kingdom from popery and arbitrary power … ([London], 1688). CCL CRUNDALE D.127 (16)
Image 3: Title page from James Welwood's Reasons why the Parliament of Scotland cannot comply with the late K. James's proclamation … (London, 1689). CCL CRUNDALE E.5(43)
Image 4: Title page from The Prince of Orange his declaration … : with a short preface, and some modest remarks on it. (London, 1688). CCL H/Y-5-15(12)
Further reading
Joad Raymond, Pamphlets and pamphleteering in early modern Britain (Cambridge University Press, 2002)
Share