Item 13: Book gifting and the study of ancient languages in 17th century Canterbury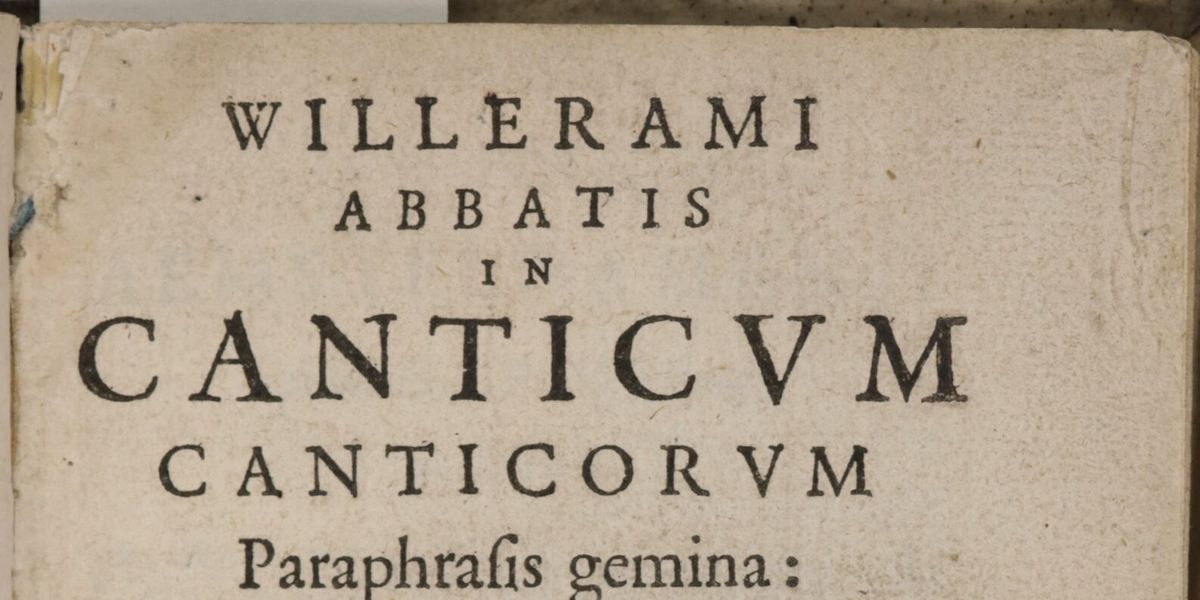 Author: David Shaw, Cathedral Library volunteer
One of the major scholarly figures of mid-seventeenth century Canterbury was William Somner (1606–1669), a registrar of the Consistory Court before the Civil War and also Auditor (chapter clerk) to the Cathedral after the Restoration. He is best known for his Antiquities of Canterbury (1640), the first historical study of an English city, and for his Dictionarium (1659), the first dictionary published of England's ancient language Old English (which is also known as Anglo-Saxon and in the seventeenth century was simply called 'Saxon').
Somner gained an early reputation as a specialist in Old English, collaborating with other eminent scholars such as William Dugdale, Sir Roger Twysden and Sir Simonds D'Ewes. In 1657 during the Cromwellian Commonwealth when he could no longer work at the Consistory Court, he was appointed to a post of 'lecturer and reader of the Saxon language' established at Cambridge University in 1638 by Sir Henry Spelman which enabled him to complete his work on the Dictionarium Saxonico Latino Anglicum (Anglo-Saxon – Latin – English Dictionary).
In fact Old English was not the only ancient language which Somner studied. His writings and his library show that he knew Celtic languages, particularly Old Welsh, and a number of other older Germanic languages which were being studied by specialists in Europe. The Cathedral Library has about 100 books from Somner's library, acquired in 1669 from his widow. Many of his books have inscriptions showing that they were gifts from fellow researchers and authors.
One of Somner's long-standing friends and supporters was Meric Casaubon, a canon of Canterbury Cathedral (his father Isaac Casaubon, a French Huguenot refugee scholar, had also been a canon of Canterbury). Meric Casaubon was expert in ancient Greek as well as sharing Somner's interests in Old English. One of his gifts to William Somner was a copy of the paraphrases on the Song of Songs written in Old High German by , an eleventh-century abbot of Ebersberg in Upper Bavaria, who died in 1085. In Canticum Canticorum paraphrasis (CCL W2/X-3-35) was published by the Plantin press in Leiden in 1598. It has paraphrase in the Frankish dialect of Old High German together with another version in Old Flemish and a Latin verse translation. Somner also owned a later edition of work, published in Amsterdam in 1655. Its editor, the Dutch scholar Franciscus Junius (1591—1677), sent Somner a copy of his Observationes on on publication in 1655 (CCL W2/X-3-37). Junius had worked in England in the 1620s and 1630s and spent the last two years of his life in Oxford. Like Somner, he was a specialist in the early languages of Europe with a particular interest in English etymology.
Meric Casaubon's gift has a long inscription in Latin written by Somner praising his friend Casaubon and recording gifts of ten other books which he had received from him. These are mainly books written by Casaubon, dating from the 1630s to 1650.
Somner owned a number of editions of texts in Anglo-Saxon, as well as having an interest in medieval English, especially the works of Chaucer. His copy of the 1627 edition of John Minsheu's Ductor in linguas, The guide into tongues is interleaved, with extensive manuscript annotations on Anglo-Saxon words by Somner (W/B-5-1). He also owned a copy of Ole Worm's work on Danish antiquities and language which contained the first scholarly account of the runic writing system (W/F-2-36).
Images
Image 1: Title page of Williram's In Canticum Canticorum paraphrasis (Leiden, 1598). CCL W2/X-3-35
Image 2: Page from Williram's In Canticum Canticorum paraphrasis (Leiden, 1598). CCL W2/X-3-35
Image 3: Endpaper inscription from Williram's In Canticum Canticorum paraphrasis (Leiden, 1598). CCL W2/X-3-35
References
Williram, Willerami abbatis in Canticum Canticorum paraphrasis : gemina: prior rhythmis Latinis, altera veteri lingua Francica. Addita explicatio, lingua Belgica; & notae quibus veterum vocum Francicarum ratio redditur. Edente Paullo Merula. (Lugduni Batavorum : ex officina Plantiniana apud Christophorum Raphelengium, 1598). CCL W2/X-3-35.
The copy in the University Library in Gent is available in digitised form: https://books.google.be/books?vid=GENT900000021669
David Wright, '"Devotion to the uncovering and recording of a nation's language and a city's antiquities": The life of William Somner of Canterbury (1606–1669)', Archaeologia Cantiana, vol. 140 (2019), pp. 13-36, vol. 141 (2020), pp. 25–46.
Sarah Griffin and David Shaw, 'William Somner and his Books: Provenance Evidence for the Networks of a Seventeenth-Century Canterbury Antiquarian', in: Kentish Book Culture: Writers, Archives, Libraries and Sociability c.1400–1660, ed. Claire Bartram, Peter Lang, Oxford: 2020, pp. 233–285: Appendix 4 (pp. 243 and 280—281).
Share