Item 11: Shakespeare's Second Folio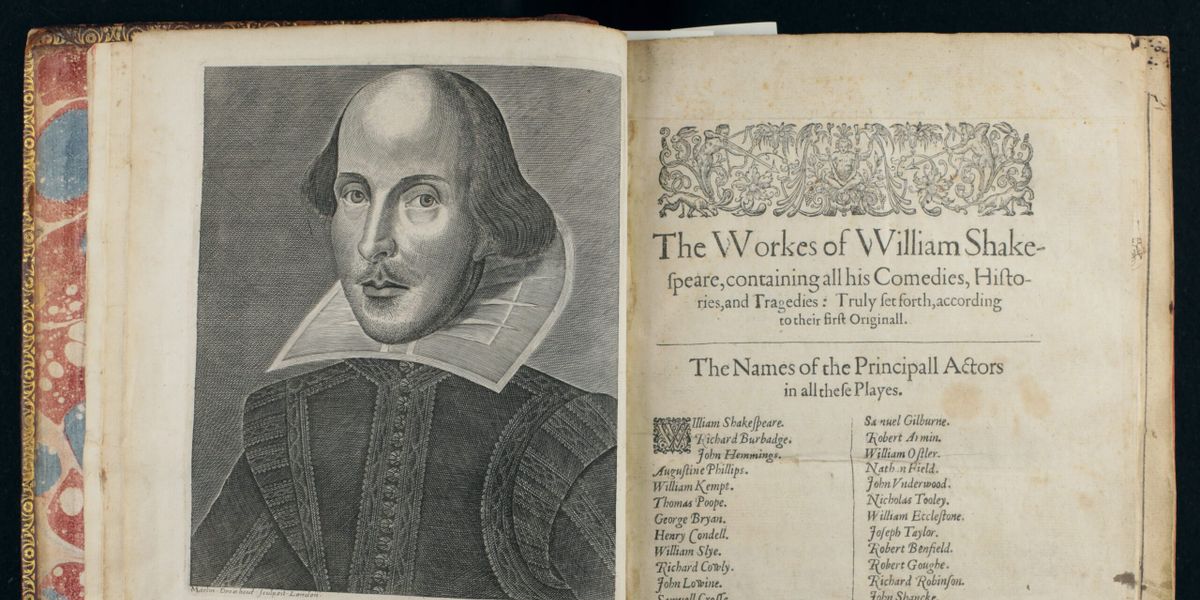 Author: Fawn Todd, Cathedral Librarian
It's rather difficult to avoid mentioning Shakespeare when putting together any list of influential works, so his inclusion here should come as no surprise for bibliophiles! Our beloved copy of Shakespeare's works held here at the Cathedral (CCL H/O-4-24) is a Second Folio edition, and one which holds no small number of surprises: it is a book of alterations, annotations, and unexpected appearances of famous poets.
The Second Folio of Shakespeare's works came out in 1632, just nine years after the First Folio in 1623 and sixteen years after the playwright's death. This edition is notorious for its large number of typographical errors, likely due to poor proof reading during production, but that does not mean that the volume is not without its merits. Aside from the estimated 1,600 (purposeful) textual alterations that seem to attempt to correct spelling, grammar, and apparent errors that appeared in its predecessor, the opening pages also included a new addition: an unsigned poem on Shakespeare written by another English literary giant, John Milton. Milton's father was a scrivener whose shop in London was situated nearby St. Paul's Churchyard, conveniently close to the printing house and shop of some of those involved in the publishing of the Second Folio. Milton (most famously known for his later work Paradise Lost) would have been around 24 years old when this edition came out, and it is the first time the poet appears in print.
A keen observer of our particular copy may notice something very strange: the first few pages are trimmed significantly shorter than the rest. This is because the original title page, colophon, and portrait of this volume were lost. The main text has been verified as a Second Folio, however it seems that these front few pages were gathered from the fourth state (printed 1685, 53 years after the rest of the text) and added to the volume when it was rebound in the eighteenth century. Those who are interested in the detective work behind this discovery can read more about it in one of our previous Picture This articles.
One of the most interesting things about our copy of the Second Folio, however, is not clear until you begin to look through the text itself: some of the plays have been heavily annotated. The hand has not been identified, and further research is required to discover if the annotations are an attempt to compare or "correct" the volume in relation to other editions, or whether these are annotations which were intended to aid in putting on a performance of the plays. It seems that this fascinating folio still has a few secrets to uncover yet.
Images
Image 1: Close-up of Milton's poem 'An Epitaph on the admirable Dramaticke Poet, W. Shakespeare', within Mr William Shakespeares comedies, histories, & tragedies (London, 1632 [from fourth state pages, dated 1685)). CCL H/O-4-24
Image 2: Initial pages and Shakespeare portrait from Mr William Shakespeares comedies, histories, & tragedies (London, 1632 [these form part of the fourth state pages, dated 1685)). CCL H/O-4-24
Image 3: Annotation from Mr William Shakespeares comedies, histories, & tragedies (London, 1632). CCL H/O-4-24
Further reading
'About the Second Folio', The Shakespeare Folios Electronic Library (2006) http://shakes.meisei-u.ac.jp/e-second.html
William Todd, "The Issues and States of the Second Folio and Milton's Epitaph," Studies in Bibliography 5 (1953), pp. 81-108
Jayne Wackett, 'Celebrating Shakespeare 400: Faces and Folios' (2016) https://www.canterbury-cathedral.org/heritage/archives/picture-this/celebrating-shakespeare-400-faces-and-folios/
Share