The Medieval Cathedral: The 'Domesday Monachorum'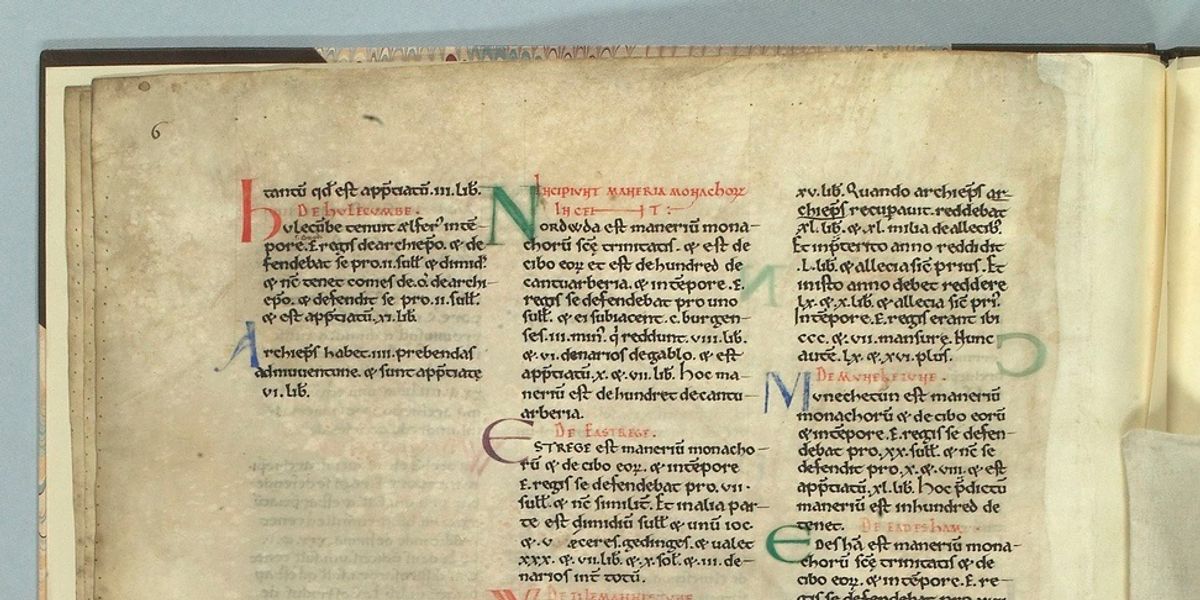 Author: Cressida Williams, Archives and Library Manager
Perhaps the most famous historic book in England is the Domesday Book, the written record of the land survey ordered by William the Conqueror which was completed in 1086. The original volume is in The National Archives in London and is a record of a hugely impressive and efficient survey process. It was first referred to as the Domesday Book a century after its completion. This is a reference to the Last Judgement as described in the Book of Revelation in the Bible. A common image of the Last Judgement, popular in church wall-paintings known as Doom paintings, was of Christ seated in majesty holding a book of the scriptures or of laws. In days when few were able to read and right, books were symbols of power, even intimidation.
The document to illustrate the Norman Conquest of 1066 and the great changes it brought for Canterbury Cathedral is the 'Domesday Monachorum', or the Domesday Book of the Monks. This includes information on the estates of the cathedral, of the Archbishop of Canterbury and of the Bishop of Rochester, largely as presented in the Domesday Book proper. There is also a list of payments from churches in the diocese to the Archbishop, and a listing of the Archbishop's 'knights'. The volume was written at the cathedral priory in the late 11th century on sizeable sheets of parchment (animal skin). It is in Latin, in a beautiful clear script with use of coloured inks for capital letters. The page shown shows the beginning of the listing of the manors of the cathedral priory, including information on Sandwich, Eastry and Adisham.
The decades after the Norman Conquest saw rebuilding of the cathedral and its monastic buildings, overseen by Archbishops Lanfranc and Anselm, the first two Norman Archbishops of Canterbury. Indeed, the current Archives building is on the site of the dormitory (sleeping quarters) for the monks constructed under Lanfranc. It was also a time of consolidation and reform. Lanfranc issued 'Constitutions' to guide monastic life at the cathedral and beyond. Also under Lanfranc, the 'primacy', or superiority, of the position of Archbishop of Canterbury was established. This was achieved through the document known as the Accord of Winchester. Dated 1072, this document is signed by William the Conqueror with his handwritten cross, and is perhaps the most famous document in the cathedral's collections.
In the medieval period, the Church was the centre of literacy and learning. At Canterbury Cathedral, learning and the production of fine books flourished in the Norman period, in particular under Anselm. So also did the keeping of records and archives, something which is very much demonstrated by the Domesday Monachorum, being a definitive record of the cathedral priory's estates.
Share