The Cathedral as landowner: the Vauxhall map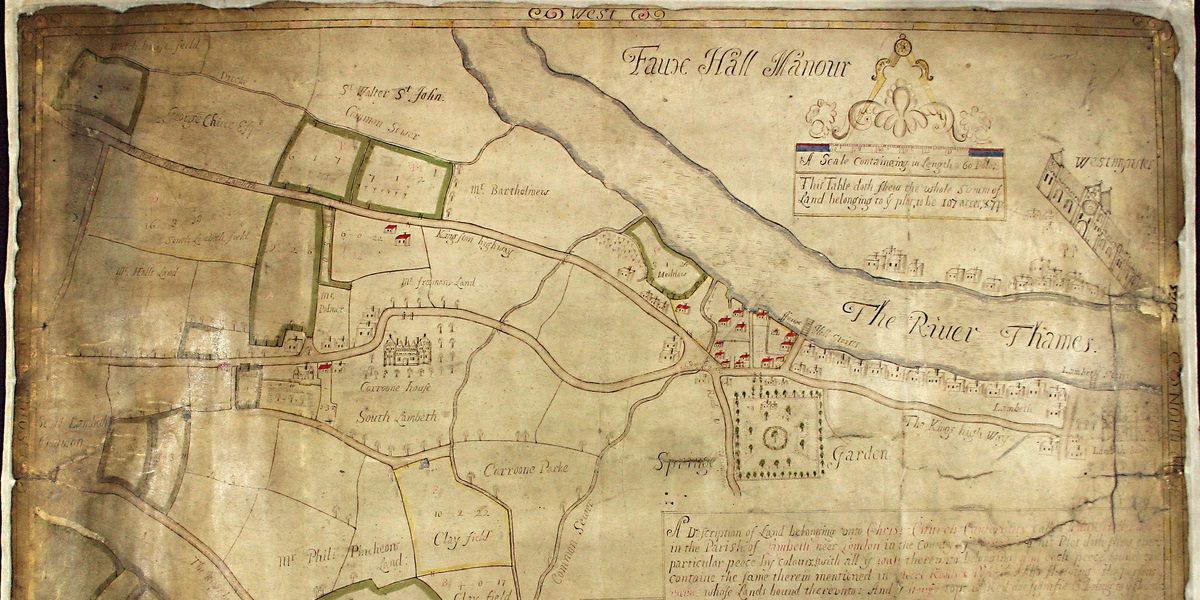 Author: Cressida Williams, Archives and Library Manager
As recorded in the late 11th-century 'Domesday Monachorum' , the cathedral held estates from Anglo-Saxon times. Further estates (which can be also known as manors) were given to the cathedral during the Middle Ages; some, like the manor of Doccombe in Devon, were given in memory of St Thomas Becket. By the Reformation, the cathedral's manors were mostly in Kent but also in many other counties, including in East Anglia, Surrey and Sussex. The cathedral was also considered the 'rector' of specific churches, having some responsibilities and also receiving some income. Most of the manors and rectories were transferred from the cathedral priory to the Dean and Chapter after the Reformation. Estates were seized during the upheavals of the Civil War, but were restored to the cathedral after 1660.
The manors provided income for the cathedral and also maintained links with a wide community, particularly in Kent. The cathedral employed officials to oversee its estates, which in the post-Reformation period were leased out. In the decades after the Restoration, there were some attempts to manage the manors more closely and efficiently. As part of this, maps and surveys were commissioned.
This fine plan (reference Map 18), in pen and wash on a large sheet of parchment, was drafted for the cathedral in 1681 by Thomas Hill, a mapmaker of Canterbury. It shows the manor of Vauxhall in the parish of Lambeth, described as being in Surrey and 'near London'. Some of the map has been damaged through wear; Lambeth Palace, then as now the residence of the Archbishops of Canterbury, can be seen on the far right-hand side, with Westminster Abbey just the other side of the Thames. Some buildings are shown along the banks of the river, but otherwise much of the area is countryside, with individual fields shown. Today, this is all very much part of the London metropolis.
A detail shows the 'Spring Gardens'. These gardens (which did not form part of the Vauxhall manor) opened after the Restoration and are mentioned by the diarists John Evelyn and Samuel Pepys. In the 18th century, they became a highly popular gathering place and musical venue known as the Vauxhall Pleasure Gardens.
The manor of Vauxhall had been granted to the cathedral in 1362 by Edward of Woodstock, son of King Edward III, known as 'the Black Prince', whose magnificent tomb is on the south side of the Trinity Chapel. The original grant, held in the Cathedral Archives, was given to support various chantries within the cathedral.
In the 1860s, as part of cathedral reforms, the cathedral's estates passed to the centralised Ecclesiastical Commissioners. Today, the cathedral's property is almost entirely in Canterbury along the boundary of the precincts. Income from this property is a vital source of funding for the maintenance of the cathedral buildings and for its ongoing work and mission.
Share