The 18th century: Samuel Grimm watercolour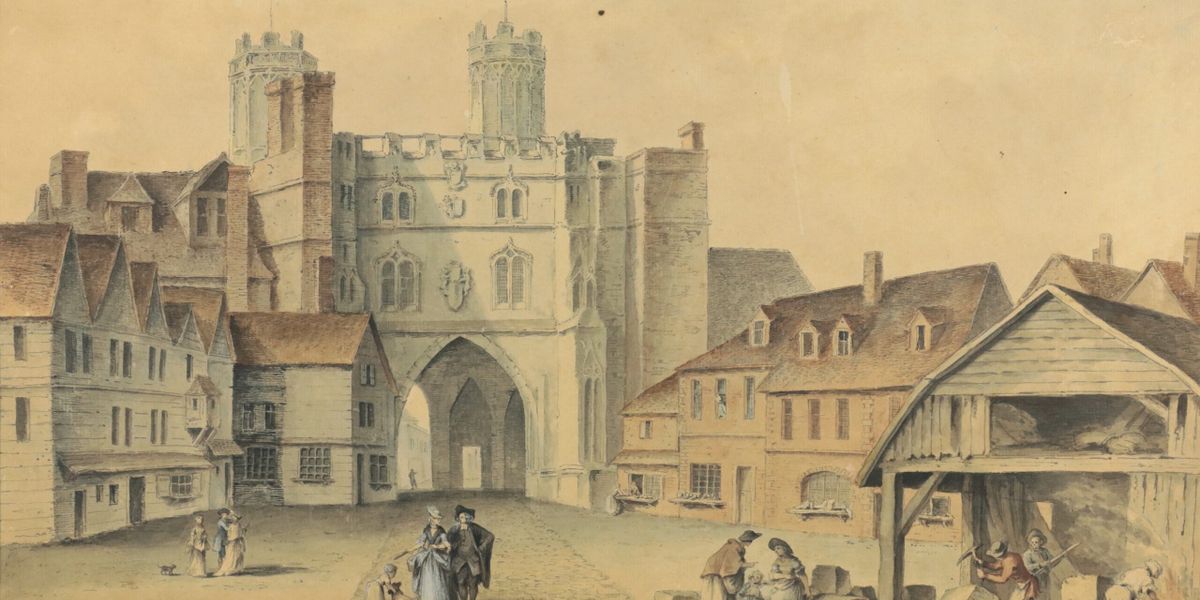 Author: Cressida Williams, Archives and Library Manager
The 18th century saw the development of tourism to Canterbury and its cathedral. Travel by the well-to-do was made easier by improved road networks; Canterbury was conveniently situated on the route between London and Dover, and near other attractions such as horse-racing each summer on Barham Downs. Books about local history, antiquities and architecture were produced in increasing numbers, fuelling interest in touring. The city had a lively cultural scene, with theatre and music. Wolfgang Amadeus Mozart performed as a child in the city in 1765. Other notable visitors to the city during this period included the writer Horace Walpole, the traveller Celia Fiennes, and, right at the end of the century, Jane Austen.
This emerging tourism was accompanied by increasing depictions of the cathedral in art. Engravings of the cathedral were produced for inclusion in books. Artists also painted the cathedral. The pen and wash drawing shown here was produced by Samuel Hieronymus Grimm in 1768, and is one of six Canterbury views in the cathedral's collection (reference U376/2). Grimm was Swiss by birth, living in London from 1778 onwards. He produced a large body of work during his travels throughout England, much of which is now at the British Library.
This drawing shows the view from the south-west door of the cathedral towards the Christ Church Gate, with two groups of visitors dressed in high-fashion clothes, little dogs running beside them. Wares are being sold from windows of houses just inside the gate. On the right are some cathedral masons cutting stone and heating their implements, with, nearby, a grouping of individuals in everyday dress. A busy corner of the precincts, just as it has been in recent years with the repaving works as part of The Canterbury Journey project.
Interest in depicting the cathedral continued through the 18th century and beyond. Joseph Mallord William Turner painted the cathedral in the 1790s, producing a number of works including one with a view towards the Christ Church Gate similar to Grimm's. In the following decades, many other notable artists chose the cathedral as their subject, and a trade in selling prints of the cathedral developed. Art became a popular pastime, and the cathedral's collections include some fine watercolours produced in the 19th century by precincts residents, both men and women.
Share