Henry II and St Thomas Becket: Canterbury City's first charter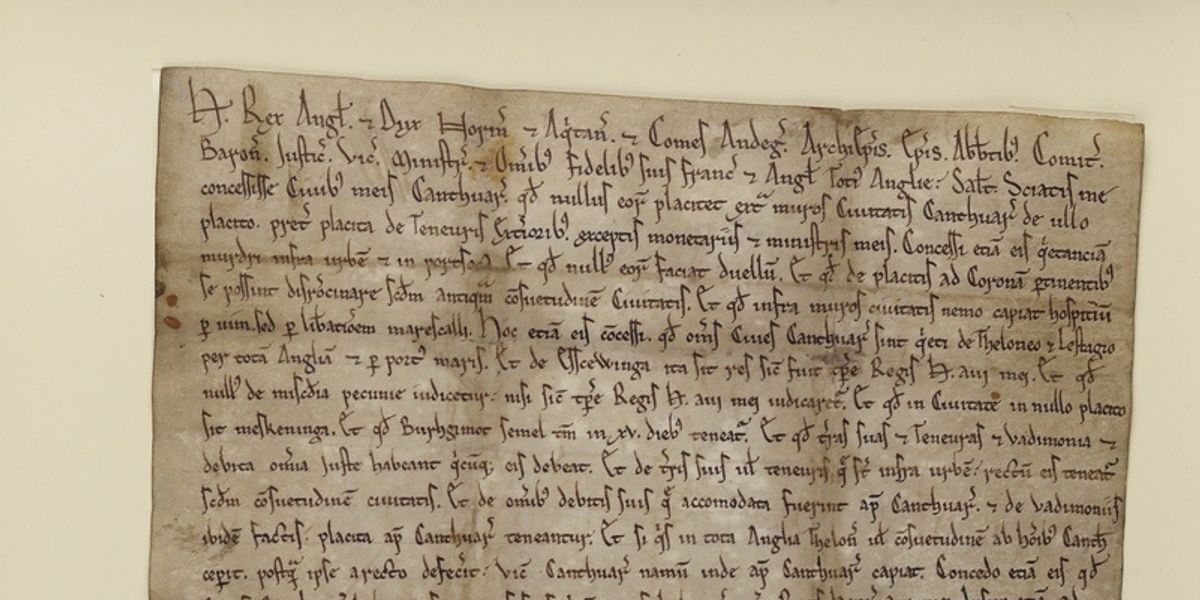 Author: Cressida Williams, Archives and Library Manager
The murder of St Thomas Becket in his cathedral on 29 December 1170, and the cult of Becket which
developed, shaped Canterbury Cathedral and its city for the centuries to come. Becket's cult, which attracted countless thousands of pilgrims throughout the Middle Ages, explains some of the cathedral's architecture. The magnificent eastern arm of the cathedral – the quire and Trinity Chapel – were built to accommodate Becket's new shrine, consecrated during the service on 7 July 1220 when his remains were moved there ('translated') from the earlier tomb in the crypt. This grand architectural space, with dazzling stained glass depicting miracles of the saint, was designed to impress all who visited the shrine. Canterbury became one of the great pilgrimage centres of medieval Europe, and inns and hostelries were built in the city to accommodate visitors.
This charter illustrating the story of Becket is the earliest surviving charter (or grant of rights) of the City of Canterbury. Written in Latin on parchment, it is a charter issued by King Henry II which renews various rights given to the city by his predecessors. These earlier charters no longer survive. The charter is sealed with a fine example of the King's Great Seal in red beeswax, with an image of the monarch seated on his throne. As was common at this time, the charter has no date, but we can establish that it was written some time between 1155 and 1161 by analysing the list of witnesses at the end. These include Theobald, Archbishop of Canterbury, the bishops of London and Chichester, and Thomas, the Chancellor. This Thomas is indeed Thomas Becket, the charter being issued at a time when his friendship with the King was strong. That friendship deteriorated rapidly after Becket succeeded Theobald as Archbishop in 1162, leading to Becket's eventual murder by four of Henry's knights.
Thomas Becket was born in London, and indeed for much of his life would have referred to himself as Thomas of London. He was considered the patron saint of London. Thomas never seems to have used the 'surname' Becket, although his father and sister did. 'Becket' may derive from a place-name 'Bec' in Normandy, where Becket's parents came from, or from 'beaked', implying a large nose.
This charter, along with the historic archive of the City and District of Canterbury, is cared for by the Cathedral Archives and Library, some 50 metres away from the site of Becket's martyrdom.
Share