Cathedral music in the early modern period: choir partbooks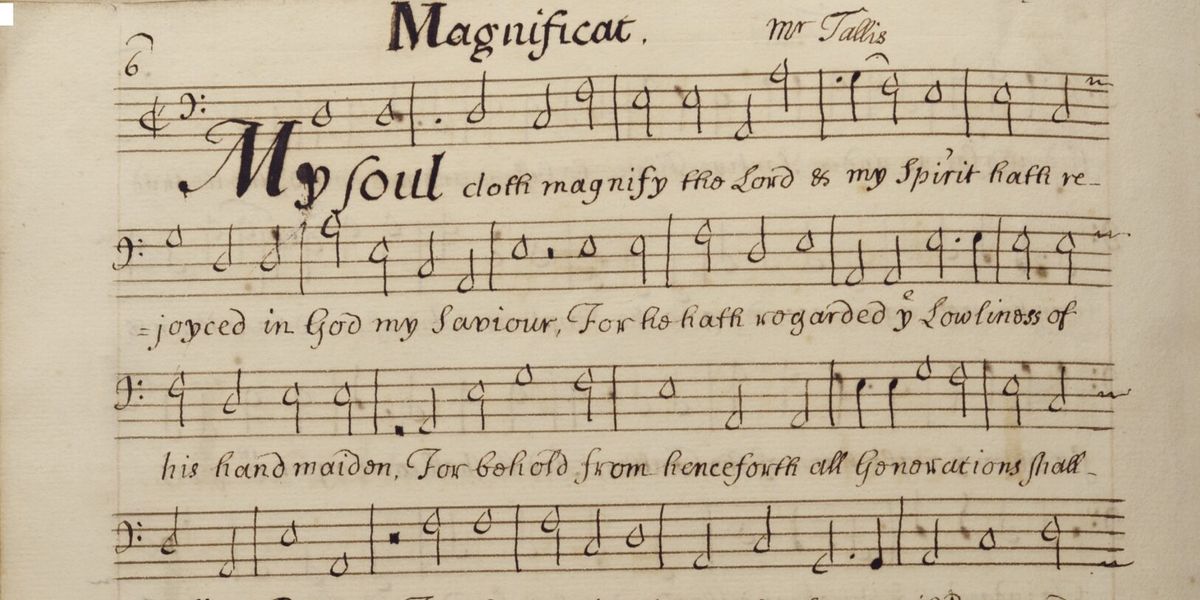 Music has been central to the life of Canterbury Cathedral since its foundation. The medieval monks of the cathedral priory sang during the daily 'offices' as well as during Mass. A choir of boys from the monastic school was formed in 1438 for singing in the Lady Chapel. The changes in church practices and liturgy brought by the Reformation meant that almost all of the medieval music collection was destroyed. Parchment from some manuscripts was reused in book-bindings; some of these fragments have been recovered and are held in the Cathedral Archives as tantalising evidence of what there once was.
After the Reformation, the cathedral choir built up a repertoire of music newly written for the Protestant church. One of the best-known Tudor composers was Thomas Tallis who wrote music under successive monarchs in English as well as in Latin, reflecting the religious turbulence of the time. He sang in the cathedral's choir as a 'lay clerk' in the 1540s before being appointed as a Gentleman of the Chapel Royal, a prestigious and influential position that he held for the rest of his life. Canterbury Cathedral's music continued to flourish right up to the English Civil War in 1642. When Puritans raided the cathedral in 1642 and 1643, the music collection was again targeted, with the choir's books torn up and scattered throughout the building.
Choral services returned to the cathedral after the Restoration of the Monarchy in 1660, and it is from this date onwards that the cathedral's collection of choir music starts. This is in the form of part-books. Unlike modern scores where all of the parts can be seen, part-books contained only the music for an individual singing part—whether treble, countertenor, tenor or bass. They were hand-copied until printed music became more affordable in the 19th century. The part-books contain anthems and many settings of the canticles which were sung at Matins and Evensong. Some of the historic part-books continued to be used by the choir well into the 20th century. That music written many centuries previously remained (and still remains) within the cathedral choir's repertoire demonstrates the fact that church choral music builds on tradition and maintains continuity. The books themselves show this continued use, their worn pages and damaged bindings being evidence of much handling and of the key role they have played in cathedral life through the centuries.
The image shown here is of a setting by Thomas Tallis of the English translation of the 'Magnificat', the canticle sung at evensong, written into a part-book in the early 18th century.
A project to conserve and digitise the part-books, and to open up access to their contents, has been supported by the Lanier Theological Library Foundation.
Share