Canterbury Cathedral and Magna Carta: The 'Pine Magna Carta'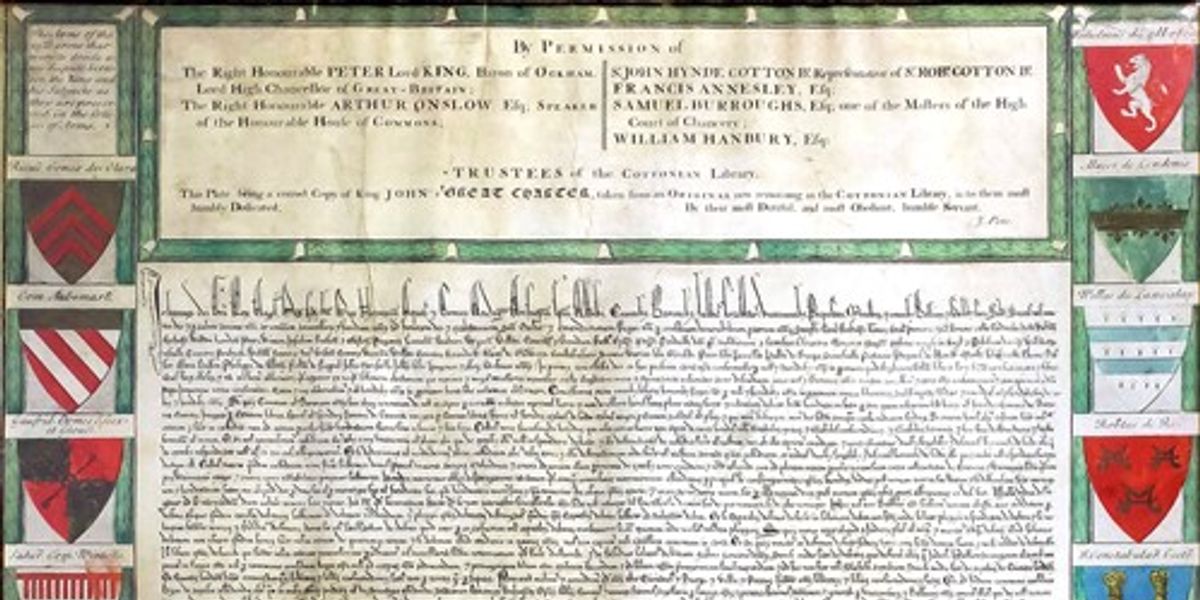 Author: Cressida Williams, Archives and Library Manager
One of the great milestones of English medieval history is the agreement by King John to Magna Carta in 1215, following the dispute between him and his barons. Although the agreement took place at Runnymede, by the banks of the Thames near Windsor, Canterbury Cathedral has an important place in the story. This leads to Canterbury being one of England's 'Magna Carta Towns'. Magna Carta, which means 'great charter' in Latin, so called because of the length of the document recording the agreement, has come to symbolise principles of freedom and democracy in this country and across the world.
Magna Carta was reissued in revised versions after John's death by Henry III and Edward I; examples of these later issues are owned by the Town Councils of Faversham and Sandwich. However, the Magna Carta of King John remains the most iconic document. It is thought that 13 or more copies of the charter were written and sealed in 1215 after King John's agreement. Now, only four of these survive in the world. One is owned by Salisbury Cathedral, one by Lincoln Cathedral and two by the British Library. In 2015, the Magna Carta anniversary year, it was proved that one of the British Library's copies was owned by Canterbury Cathedral, brought here in 1215 and remaining in the archive until the 17th century, when it was removed by a collector.
Canterbury's copy of the 1215 Magna Carta may well have been brought to the cathedral by the then Archbishop, Stephen Langton, who was present at Runnymede and was one of the principle negotiators of the agreement. Langton was a theologian who had taught in the Paris Schools. His
election as Archbishop of Canterbury in 1206 when in his 50s caused a major rift between King John and the Pope.
The document we see here is a print on vellum (calf skin) of the Canterbury Magna Carta as held in the British Library. The print  was made in 1733 by the engraver John Pine, and is an extraordinary example of the engraver's skill. Pine engraved the entire document in 'mirror' on a metal plate, and each word of the document is legible. He added shields of arms of the barons for visual interest. Pine's prints are particularly important, as the original 1215 document had been damaged by fire in 1731 and was further damaged by attempts to restore it in the 19th century. It is now entirely illegible.
The Archives and Library acquired this print in 2017 with support from the Friends of Canterbury Cathedral, the Friends of the National Libraries and the Canterbury Auction Galleries; it has been frequently shown to visiting groups to share the Magna Carta story.
Share