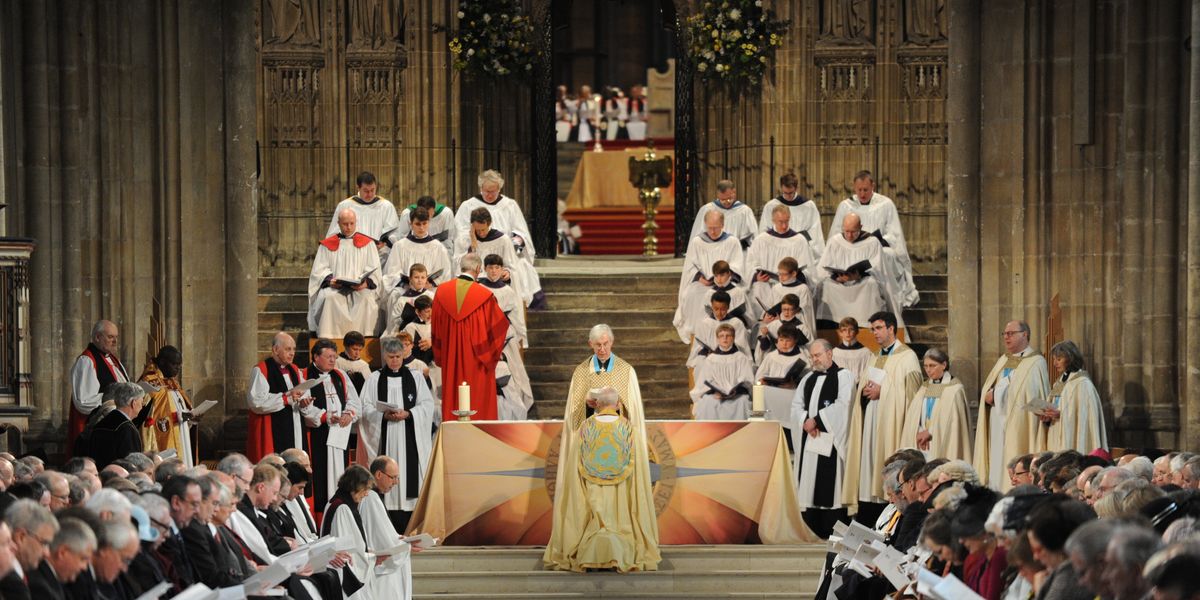 The Chapter of Canterbury are responsible for all aspects of the day-to-day management of the Cathedral. Chapter comprises the Dean, the Residentiary Canons, the Receiver General and four additional persons appointed by the Archbishop.
The Dean – The Very Revd Dr Robert Willis
The Very Revd Dr Robert Willis, the 39th Dean of Canterbury since the Reformation, was installed in July 2001. He had previously been Dean of Hereford for nine years and is a previous chairman of the Deans' Conference of the Church of England and former member of the General Synod. He is an honorary Doctor of Divinity of Yale University and Doctor of Civil Law of the University of Kent.
In 2008 he was made a Freeman of the City of Canterbury and is a Deputy Lieutenant of the County of Kent. In 2012 he was awarded the Cross of St Augustine for services to the Anglican Communion and is a Knight of the Order of St John. He has written many hymns and contributed to the recent editions of Hymns Ancient & Modern and New English Praise.
Canon Librarian – The Revd Dr Tim Naish

The Canon Librarian has responsibility for the educational work of the Cathedral, and supports the staff of the Archive and Library Department. As Director of Education the Canon Librarian has responsibility for the Anglican Conferences for Seminarians and for newly ordained bishops from around the worldwide Anglican Communion, held in the Cathedral's International Study Centre.
Tim came to this role in Canterbury in April 2018, from twelve years spent in theological education at Ripon College Cuddesdon. He has also had six years as a parish priest, and eleven years in Uganda and the Congo, working in leadership formation with the Anglican Church in those countries. Academically his special interest in missiology; he is also a keen armchair sportsman, book collector, music lover and walker. He and his wife have three grown children and (so far) one grandchild.
Archdeacon of Canterbury – The Ven Jo Kelly-Moore
Jo Kelly-Moore was installed as the  Archdeacon of Canterbury in January 2017.
Jo had been Dean of Auckland, New Zealand since August 2010 during which time she led a $14.9m project to complete and consecrate Holy Trinity Cathedral, as well as sustaining her involvement in the civic life of Auckland. She moved into that role from being vicar at St Aidan's Anglican Church, Remuera, a role that also involved serving as chaplain to Corran School for Girls. Before entering ordained ministry in 2000 Jo worked as a solicitor, both in New Zealand and in London. She met her British husband Paul when he was visiting New Zealand as a tourist  and they have two teenage sons, Adam and Nathan.
Canon Treasurer
This position is currently vacant and a recruitment process is ongoing.
Canon Missioner
This position is currently vacant and a recruitment process is ongoing.
Lay Member of Chapter – Mrs Janice Reid
When she was a child, Janice's father was ordained in Canterbury Cathedral, marking the beginning of a long association with its life and worship.
Having graduated and trained as a teacher, she completed a postgraduate research degree on aspects of the theology of the nineteenth century Ecclesiological Movement. She also has a particular academic interest in aspects of the theology of St John's Gospel, as well as in Black, Feminist and Latin American Liberation theologies.
For twenty years she taught at The King's School, Canterbury, where she was Head of Religious Studies and Philosophy, and latterly President of the Common Room, while also serving as an HMC/ISI inspector.
Janice met her husband, David, at the Deanery. They have two grown up sons and two small grandchildren, Olivia and Freddie.
Lay Member of Chapter – Mrs Caroline Spencer
Caroline has been active in church life and governance for many years. She is a member of the General Synod, Chair of the Canterbury Diocesan Licensed Ministries Framework, and a member of the Canterbury Archbishop's Council. She is an Honorary Fellow of Canterbury Christ Church University.
Caroline worships at Wye Parish Church where she is involved in the ministry of welcome and makes the coffee.
She lives in Godmersham with her husband Jonathan. Their three children are now grown and flown. She enjoys cooking for friends, walking (especially in mountains) and the visual and performing arts (just as well since two of her children are musicians and the third is a dancer and choreographer).
Lay Member of Chapter – Mr William Pettit
Appointed to Chapter in January 2007, William was the Civic and International Manager at Canterbury City Council. William has assisted at Services in the Cathedral for many years and represents the Cathedral on the Deanery Synod.
After more than 25 years as a member of the Cathedral's congregation, I am honoured and delighted to have been given this new way of serving the Cathedral community.
Receiver General – Commodore Martin Atherton
The Receiver General is the Chief Executive Officer of the Cathedral and the senior lay member of the Cathedral staff.
Before joining the Cathedral in October 2016, Cdre Atherton was Naval Regional Commander for Eastern England and Commander of the UK Regional Forces. He grew up in Liverpool and attended the city's Blue Coat School, after which he was awarded a scholarship to Christ Church, Oxford University where he studied English. A lifelong Liverpool FC supporter, Cdre Atherton is a Freeman of the City of London, a Younger Brother of Trinity House and a supporter of a range of arts institutions including the Royal Opera House, Glyndebourne Festival and the Royal Shakespeare Company.