Thursday 18 April 2024
DAY TRIP: Rochester Cathedral and the Huguenot Museum
Join us on a trip to see our neighbouring cathedral in Kent.
We will enjoy guided tours at Rochester Cathedral in the morning with the option to attend Holy Communion at 13:00.
In the afternoon, we will take a short walk to visit the Huguenot Museum (we will divide into two groups to be able to enjoy the Museum in more comfort) to find out more about the French citizens whose history is intertwined with our own Cathedral.
Tickets: £35 Friends of Canterbury Cathedral, £40 Friends' guests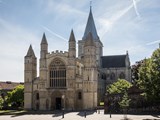 There seems to have been an error while submitting your feedback
Thank you for submitting your feedback
Add your feedback